San Sebastian Festival's new section adopts the name of the Berlinale's prestigious "CULINARY CINEMA" section, swapping the C for a Z in a wink of the eye to the Basque translation of the word 'CINEMA': ZINEMA.
San Sebastian and its surroundings boast the world's highest concentration of Michelin stars per square metre, all held by Basque chefs enormously well known and appreciated around the planet: Mugaritz (2 Michelin stars and listed third by the British guide The Restaurants), Arzak (3 stars), Martín Berasategui (3 stars), Akelarre (3 stars)… Andoni Luis Aduriz, Juan Mari and Elena Arzak, Martín Berasategui, Pedro Subijana… Here we have some of the best restaurants and chefs in the world.
San Sebastian also has a competitive film festival listed in its top category by the FIAPF, meaning that the Festival was virtually obliged to create a section dedicated to cinema and gastronomy.
In the words of San Sebastian International Film Festival Director, José Luis Rebordinos, "for years we have admired the work of the Berlinale in this field with its Culinary Cinema section. That's why, now, when we've decided to create our own section on cinema and gastronomy, we've come to the conclusion that the best way to do it is by working together with one of the biggest Festivals in the world, the Berlinale, thus being able to draw on its experience and prestige in both worlds: cinema and cuisine."
The collaboration will include an exchange of information on cinema and cuisine and explore a variety of food-related activities in education, science and agriculture.
San Sebastian's first Culinary Zinema edition will open with the world premiere of MUGARITZ BSO, a documentary by Felipe Ugarte and Juantxo Sardon.
Seven feature films and one short film make up the section.
The film screenings will be accompanied by themed dinners.

Programme
7 films, 7 themes, 7 restaurants, 7 chefs
Film

Restaurant

Chef

---

MUGARITZ BSO
Mugaritz
Andoni Luis Aduriz

---

EL BULLI: COOKING IN PROGRESS
Mirador de Ulía
Rubén Trincado

---

EL CAMINO DEL VINO (THE WAY OF THE WINE)
La brasserie Mari Galant
(Hotel de Londres)
Roberto Ruíz
del restaurante El Frontón de Tolosa

---

LES ÉMOTIFS ANONYMES (ROMANTICS ANONYMOUS)
Iñigo Lavado
Iñigo Lavado

---

JIRO DREAMS OF SUSHI
Bokado Aquarium
Mikel Santamaría

---

NOMA - AT BOILING POINT
Fagollaga
Ixak Salaberria

---

PERFECT SENSE
Illarra
Josean Eizmendi

---
Films
---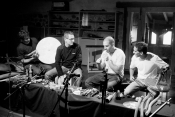 Mugaritz BSO
Dir: Felipe Ugarte, Juantxo Sardon.
Spain, 2011.
Documentary.
OPENING GALA

The musician Felipe Ugarte and the chef Andoni Luis Aduriz set out on a joint project aiming to transform the gastronomic menu into a musical experience. The recipes created at Mugaritz endeavour to reproduce a faithful, transparent world of sound converting the sensations of the palate into musical compositions.
---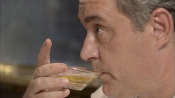 El Bulli: Cooking in Progress
Dir: Gereon Wetzel.
Germany, 2010. 109 min.
Documentary.

Documentary on the process of creating dishes at the restaurant El Bulli. Each winter, at the end of the season, Ferran Adrià, widely considered the best, most innovative and craziest chef in the world, and his closest collaborators, Oriol Castro and Eduard Xatruch, cloister themselves in their experimental kitchen in Barcelona where they work to create their new menu for the following season. This documentary closely observes these months of creation.
---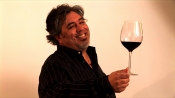 El Camino del vino (The Way of Wine)
Dir. Nicolás Carreras.
Argentina, 2010. 95 min.
Fiction.

The famous sommelier Charlie Artuarola arrives in Argentina's Mendoza province to participate in the "Masters of Food and Wine"tasting contest. Once there, catastrophe strikes: he completely loses his sense of taste. Desperate to find a cure and recover his most precious sense, he travels all over the province to try the great wines of the region and "wash" his palate in the doing. Although he finds no cure, he does find renewed encounters with his loved ones, his deepest fears and ghosts.
---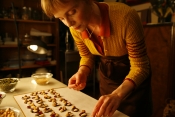 Les Émotifs anonymes (Romantics Anonymous)
Jean-Pierre Améris.
France, Belgium, 2010. 80 min.
Fiction.

Jean-René is a chocolate-maker on the verge of bankruptcy, manic and afraid of absolutely everything, particularly women; Angélique is a pretty and gifted creator of delicious chocolates who attends therapy classes for her complexes with a group reserved for "anonymous emotionals". They meet and fall in love when she's taken on at the business, but their shared pathological shyness doesn't make things easy and creates all kind of misunderstandings between them.
---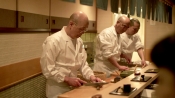 Jiro Dreams of Sushi
David Gelb.
USA, 2010. 83 min.
Documentary.

Documentary about Jiro, a chef in his eighties, owner of the only sushi restaurant to hold three Michelin stars, located in a Tokyo metro station, with seating for 10 guests who have to reserve a month in advance and pay 300 euros to enjoy the delicacies prepared before their eyes by this exotic character.
---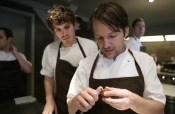 Noma - at Boiling Point
Christian Vorting.
Denmark, 2010. 58 min.
Documentary.

Restaurant Noma in Copenhagen has recently been ranked number one in the world by the British magazine The Restaurants. This fly-on-the-wall documentary how René Redzepi runs the kitchen with military precision and talent while exploring the tastes and flavours of the Nordic region.
---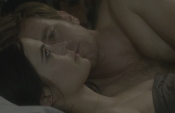 Perfect Sense
David MacKenzie.
UK, Germany, Denmark, 2010. 88 min.
Fiction.

The world is afflicted by an epidemic causing people to suffer the gradual loss of their senses. The film stars a chef and an epidemiologist, inhabitants of a Scottish city, who meet, fall in love and ride out the illness together. Meanwhile, they devise original recipes to keep their clients coming, even if they are losing their sense of taste and smell.
---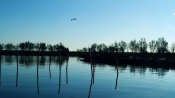 Il ritorno
Massimo Bottura.
Italy, 2010. 12 min.

Short film illustrating the gastronomic principles of Massimo Bottura's cuisine.
Chefs
Rubén Trincado
Owner and chef of the Mirador de Ulía restaurant. Holds a Michelin star since 2010. Seriously cutting edge cuisine from a chef who leads the way in things to come.
Roberto Ruíz
Chef for the last 20 years at Tolosa's Frontón, the pelota court restaurant celebrated as a temple of produce. Roberto studies the origin of dishes, working with producers to achieve the qualities he proceeds to transform with the finest of culinary skills.
Iñigo Lavado
A chef young in years yet already boasting an excellent professional career. Having trained in top establishments, his is a solid project. Always eager to explore new ways of working and managing. His trademark is a model of restaurant taking the forefront in all fields.
Ixak Salaberria
At his Fagollaga, Ixak offers cuisine combining the magnificent classicism of past generations with groundbreaking contemporary haute cuisine. A chef with a profound belief in work well done, a culinary virtuoso.
Mikel Santamaría
Mikel officiates at the Aquarium's Bokado eatery, a place of spectacular views and excellent gastronomy. Backed by long experience in modern and avant-garde cuisine, Mikel is also highly skilled in carrying off events of truly extraordinary quality.
Andoni Luis Aduriz
With two Michelin stars, here we have one of the most influential chefs in the world, someone to watch for future trends, a lover of exploring new paths and owner of a restaurant to which clients and friends eagerly flock for an experience surpassing the simply culinary.
Josean Eizmendi
Today the Illarra restaurant is a must in the world of the grill, an evolving technique sending strong ripples through the sector of which Josean is a recognised, prizewinning author. An inquisitive, outgoing chef who loves to teach those who delight in his food and refuses to offer anything but the best.