Quietly dying from cancer, Rose, a contract killer, embarks on one final job with her partner and stepson, Mikey. As she is about to kill Vickie, wife of an underground mob boss, Rose has a crisis of conscience and is compelled to save the life of this woman and her child. Now forced to hide out from those seeking Vickie?s death, Rose, Mikey and their new family find love and redemption under the most unexpected cirumstances.
Lee Daniels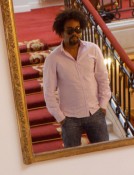 Lee Daniels began his career as a casting director on films like Purple Rain or Under the Cherry Moon. Monster?s Ball (2001), the first production of Lee Daniels Entertainment, was a pioneering achievement for being the first sole African-American production of an Academy Award-winning film. His next producing effort was The Woodsman (2004), yet another national and international success. Shadowboxer is the first film on which Daniels, in addition to producer, is also the director.
Director:
Lee Daniels
Screenplay:
Will Rokos
Photography:
M. David Mullen
Cast:
Helen Mirren, Cuba Gooding Jr.
Running Time:
93 m.
Director: