Chris and little Jenjira are running away from the mafia. Together with Holger, Chris got the 9 year old Vietnamese from human traffickers without being able to pay for her. Maggie is a withdrawn police inspector prone to alcohol who finds out why her husband left her without a word after 16 years. The two meet when Chris is accused of murder. In countless interrogations, the two get to know each other better and confess their hidden fears and dangerous desires to each other.
Matthias Glasner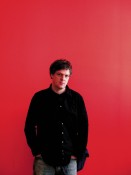 Hamburg, 1965. He started directing films alongside Birgit Staudt, including Schicksal und Zufall (1990). A musician with the group Homesweethome and founder of the Jack and Schwarzweiss production companies, in 1995 he directed Die Mediocren, followed, the next year, by Sexy Sadie, the first collaboration with his friend and actor Jürgen Vogel. He went on to direct several thrillers for TV and the movies Fandango (2000) and Der freie Wille (The Free Will, 2006), earning him the Guild of German Arthouse Cinemas Award at the Berlinale 2006 and Best Actor's Silver Bear for Jürgen Vogel.
Director:
Matthias Glasner
Screenplay:
Matthias Glasner
Production:
Matthias Glasner, Jürgen Vogel, Lars Kraume, Frank DöhmannBadlands FilmTorstrasse 15410115 BerlinTel +49 30 816 160 360Fax +49 30 816 160 361mail@badlands-film.de
Co-Production:
Cine Plus Filmproduktion
Photography:
Sonja Rom
Edition:
Mona Bräuer, Heike Gnida
Music:
Julian Maas, Christoph M. Kaiser
Cast:
Corinna Harfouch, Jens Albinus, Lisa Nguyen, Jürgen Vogel, Devid Striesow
Sales:
TrustNordisk APS (Susan Wendt)Filmbyen 122650 Huidovre, DenmarkTel 45 6029 8466susan@trustnordisk.com
Running Time:
107 m.
Director: