Three teenage stories fuse beneath the calm of a quiet, average neighbourhood. Having barely survived a suicide attempt, Jess guards a devastating secret. Connor is training to become a professional boxer, but a sexual adventure from the past continues to haunt him. And Ann, who has never had a boyfriend, develops an obsessive love. At one point, their secrets come to a head, changing their lives forever.
Andrea Olabarria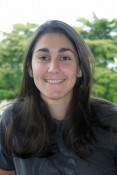 The daughter of a Basque pelota player, she spent her adolescence in San Sebastian and has travelled the world since childhood. She studied Production at Florida's Miami-Dade College and has directed several shorts, including Torn, winner of third position in the students' section of Palm Beach Festival 2002, and The Sinner, viewed some 200,000 times on the website of On the Lot, the competition for new directors produced on TV by Steven Spielberg in 2007. The screenplay of Rough Winds, her directorial feature debut, got as far as the semi-finals of the Fade In Awards.
Director:
Andrea Olabarria
Screenplay:
Andrea Olabarria, Doug Klozzner
Production:
Andrea Olabarría, J.R. Poli Spoon Entertainment Inc.Pº de Galicia 26, 1ºA20015 Donostia-San SebastiánTel +1 95 42 74 91 65andrea@spoonentertainment.com
Photography:
Matt Greene
Edition:
Andrea Olabarría
Music:
Jason Solowsky
Cast:
Danna Maret, John Iovino, Jessica Brydon, Albert Campillo, Owen Miller
Sales:
Spoon Entertainment Inc.
Running Time:
110 m.
Director: