Sunday, election day. Salvador gets up early and starts working on his allotment. He's a calm, humble man, who pays little attention to the village commotion over election of the new mayor. But his routine is suddenly thrown into confusion. In the early hours of the morning, someone has dumped several corpses in a macabre pile among his corn plants. Worried and furious, Salvador heads for the village to report the massacre, but the major and chief of police decide not to tell anyone so as not to disturb the voting. The three men are faced with some hot, tense hours of deciding what to do with the mountain of bodies. Meanwhile, the mosquitoes, the cellphone, a newspaper rumour, the wrath of a landowner and a humanitarian mission buzz annoyingly in their ears.
Carlos Moreno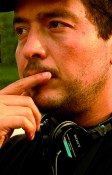 His directorial debut, Perro come perro, enjoyed its premiere at Sundance 2008 and participated in over 40 festivals, receiving 11 international awards, 5 national awards and a nomination for both the Goya and Ariel awards. He also directed the documentary Uno, la historia de un gol, and episodes of the TV series Sin retorno, Tiempo final and Los caballeros las prefieren brutas. He is currently preparing the shooting of El cartel in Colombia and Aguas negras in Mexico, produced by Fullhouse Pictures and Wild Bunch.
Director:
Carlos Moreno
Screenplay:
Alonso Torres, Carlos Moreno
Production:
Diego F. Ramírez
64ª Films
Tel 57 311 307 1046
diego@64afilms.com
www.64afilms.com

Co-Production:
Iván García
Dago García Producciones
Tel 57 315 353 4393
ivangarciagranados@hotmail.com

Photography:
Diego Jiménez
Edition:
Andrés Porras, Carlos Moreno
Cast:
Alvaro Rodríguez, Jorge Herrera, Martha Márquez, Harold Devasten, Jhon Alex Castillo
Running Time:
90 m.
Director: