Old Pop, a retired factory worker, lives in a former industrial area of Beijing with his extended family. He likes going to the market with his old colleague, Lao Chang. One day, he recognizes a face he had been unable to forget: his first love, Li Ying. An elegant old woman, Li Ying seems to have trouble remembering people, and her daughter is openly hostile to Old Pop. Despite these obstacles, the two elders start meeting in secret. Discovering that Li Ying has Alzheimer, Old Pop plays little games with her to exercise her mind. As in his award-winning first films, Liu Hao uses non-professional actors to recount an unusual love affair with a poetic and humorous touch.
Liu Hao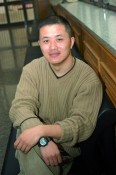 His first feature, Chen Mo and Meiting (2002), garnered the NETPAC Award and a Special Mention from the First Feature Award at Berlin Festival that same year. In 2004 he completed his second feature, Two Great Sheep, winner of the Best Film Award at the Victoria Independent Film & Video Festival, Best Asian Film at the Deauville Asian Film Festival and Jury Prize at the Washington DC International Independent Film Festival.
Director:
Liu Hao
Screenplay:
Liu Hao
Production:
Liu Hao, Teresa Kwong
GOLDEN PICTURE
Room 306, 7/F, Huang Ting Zi Xiao Qu
Hai Dian District, Beijing 100088
Tel +861 370 102 4854
liuhaostudio@yahoo.cn
Co-Production:
Connoisseurs Production
Photography:
Li Bing Qiang
Edition:
Hu Zhi Kai
Cast:
Niu En Pu, Jiang Mei Hua
Sales:
Liu Hao Studio
Room 306, 7/F, Huang Ting Zi Xiao Qu
Hai Dian District, Beijing 100088
Tel 861 370 102 4854
red.blue010@gmail.com
kwongps27@gmail.com
Teresa Kwong LIU HAO STUDIO Tel +86 13 70 10 24 854 red.blue010@gmail.com
Running Time:
112 m.
Director:
SIGNIS AWARD. ADDICTED TO LOVE, Liu Hao (China)

GUIPUZCOAN BLOOD-DONORSí ASSOCIATION CORRESPONDING TO THE SOLIDARITY AWARD. ADDICTED TO LOVE, Liu Hao (China)