In a happy suburban neighbourhood surrounded by white picket fences with flowering rose bushes, sits a black house with a dead lawn. Unbeknownst to the neighbours, beneath this home is a vast secret hideout. Surrounded by a small army of minions, we discover Gru, planning the biggest heist in the history of the world. He is going to steal the moon. (Yes, the moon!) Gru delights in all things wicked. Armed with his arsenal of shrink rays, freeze rays and battle-ready vehicles for land and air, he vanquishes all who stand in his way. Until the day he encounters the immense will of three little orphaned girls who look at him and see something that no one else has ever seen: a potential Dad. The world's greatest villain has just met his greatest challenge: three little girls named Margo, Edith and Agnes.
Chris Renaud, Pierre Coffin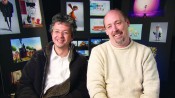 Renaud has worked as a production designer and graphic designer of storyboards on animated projects like Robots, Ice Age 2, Horton and Ice Age 3. In 2007 he conceived, wrote and produced the storyboard for the animated short No Time for Nuts, nominated for an Oscar. Coffin has worked as an animator at Amblimation, Steven Spielberg's studio, and as a director of animation at Ex Machina, Wanda or Passion Pictures. He is known as the "director of animal commercials", and for his animated TV series, Pat et Stanley.
Director:
Chris Renaud, Pierre Coffin
Screenplay:
Cinco Paul, Ken Daurio
Argumento:
Sergio Pablos
Production:
Chris Meledandri, John Cohen, Janet Healy
Illumination Entertainment
1805 Colorado Ave.
Santa Monica, CA 90404
Tel 1 310 593 8800

Edition:
Pamela Ziegenhagen-Shefland, Gregory Perler
Music:
Pharrell Williams, Heitor Pereira
Cast:
Ahotsak / Voices / Voces Steve Carell, Jason Segel, Russell Brand, Will Arnett, Kristen Wiig Gaztelaniazko ahotsak / Voices in Spanish / Voces en español Florentino Fernández, Ana de Armas
Sales:
Universal Pictures
100 Universal City Plaza, Universal City
Los Angeles, CA 91608
Tel 1 818 777 1000
www.universalpicturesinternational.com

Running Time:
95 m.
Director: