Sotiris is a police interrogator. One day he decides to pardon every poor person to whom life has been cruel. Intending to save an innocent soul, he goes as far as to kill a corrupt security guard. Dora, a lonely cleaning lady who leads a breathless life trying to make ends meet, is the only witness to the crime. Although Sotiris and Dora like each other, love, honesty and justice are anything but easy to combine.
Filippos Tsitos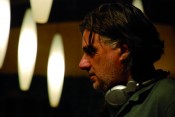 Filippos Tsitos (Athens, 1966) competed at Berlin Festival with his first film My Sweet Home (2001), while his second work Akadimia Platonos (Platoís Academy, 2009) garnered the Best Actor Award at Locarno Festival for Antonis Kafetzopoulos, also the star of Unfair World. Akadimia Platonos was screened at the San Sebastian Human Rights Film Festival in 2010.
Director:
Filippos Tsitos
Screenplay:
Filippos Tsitos, Dora Masklavanou
Production:
Alexandra Boussiou
Wrong Men
Evvoias 55-57
113 62 Athens
Tel 30 210 642 25 40
Fax 30 210 642 25 41
alexandra@wrongmen.gr
Co-Production:
Neue Road Movies (Berlin)
office@neueroadmovies.com
Photography:
Polidefkis Kyrlidis
Edition:
Dimitris Peponis
Music:
Jose Van der Schoot
Cast:
Antonis Kafetzopoulos, Theodora Tzimou, Christos Stergioglou
Format:
DCP
Sales:
Films Boutique
Skalitzerst. 54a
10997 Berlin
Tel 49 30 69 53 78 50
Fax 49 30 69 53 78 51
valeska@filmsboutique.com
Gabor Greiner FILMS BOUTIQUE Tel +49 30 69 53 78 50 gabor@filmsboutique.com
Running Time:
118 m.
Director:
Format: