Hortensia is pregnant. She was arrested while trying to help her husband (Felipe), who continues his underground struggle. Hortensia is tried and sentenced to death, although the execution won't take place until Hortensia has given birth. Pepita, her sister, has travelled from Cordoba to be with Hortensia and take care of her baby once born. Pepita goes to the prison every day to ensure that she's given Hortensia's child and prevent them from giving it up for adoption or putting it into an orphanage.
Benito Zambrano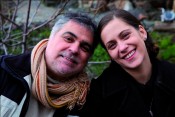 Benito Zambrano (Lebrija, 1962) blasted onto the scene as one of Spanish film's great surprises with his debut oeuvre, Solas (Alone, 1990), winner of awards at several international festivals: Berlin Festival's "Panorama" section, the FIPRESCI prize at Brussels Festival and others at Cartagena, Havana and Tokyo; the film also carried off 5 Goyas, 7 Cinema Writers Circle Awards and a Silver Fotogramas. Zambrano has since then directed the TV series Padre Coraje (2002) and the film Habana Blues (2005).
Director:
Benito Zambrano
Screenplay:
Benito Zambrano, Ignacio del Moral
Argumento:
Dulce Chacón (La voz dormida)
Production:
Antonio Pérez Pérez
Maestranza Films
Raso, 6-2ª planta (Hytasa)
41006 Sevilla
Tel 954 21 06 17
Fax 954 22 32 38
maestranza@maestranzafilms.com

Photography:
Alex Catalán
Edition:
Fernando Pardo
Music:
Juan Antonio Leyva, Magda Rosa Galbán
Cast:
Inma Cuesta, María León, Marc Clotet, Daniel Holguín, Ana Wagener
Format:
35 mm
Sales:
The Match Factory GmbH
Balthasarstrasse 79-81
50670 Köhln
Tel 49 221 539 709
Fax 49 221 539 709-10
info@matchfactory.de
Brigitte Suárez THE MATCH FACTORY Tel +49 1 72 85 56 195 brigitte.suarez@matchfactory.de
Web:
Running Time:
128 m.
Director:
Format: