When Margot meets Daniel, their chemistry is intense and immediate. But Margot suppresses her sudden attraction as she's happily married to Lou, a celebrated cookbook writer. What she doesn't know is that Daniel lives just across the street from them...
Sarah Polley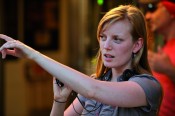 Sarah Polley (Toronto, 1979) made her acting debut at the age of only six, going on to work with Terry Gilliam, Atom Egoyan, Isabel Coixet, Kathryn Bigelow, Michael Winterbottom, Zack Snyder and David Cronenberg, among many others. She has directed several shorts and a feature film, Away from Her (2006), for which she secured several accolades including two Academy Award nominations (Best Adapted Screenplay and Best Actress for Julie Christie).
Director:
Sarah Polley
Screenplay:
Sarah Polley
Production:
Susan Cavan, Sarah Polley
Joe's Daughter / Mongrel Media
+1 416 86 78 70 0
Co-Production:
TF1 Droits Audiovisuels / The Movie Network Movie Central / Super Ecran
Photography:
Luc Montpellier
Edition:
Christopher Donaldson
Music:
Jonathan Goldsmith
Cast:
Michelle Williams, Seth Rogen, Luke Kirby, Sarah Silverman, Jennifer Podemski
Format:
35 mm
Sales:
TF1 International
6, Place Abel Gance
92100 Boulogne, France
Tel 33 1 41 41 42 67
Fax 33 1 41 41 30 60
sales@tf1.fr
Nicolas Eschbach TF1 INTERNATIONAL +33 1 41 41 42 67 mcrami@tf1.fr
Running Time:
116 m.
Director:
Format: