When he's left by his wife, Nader hires a young girl to care for his sick father. Not only doesn't he know she's pregnant, he also discovers that she's working without the consent of her disturbed husband. It's not long before Nader finds himself caught up in a web of lies, scheming and confrontations.
Asghar Farhadi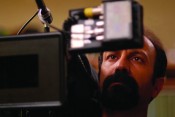 Made an international name for himself when his film Kanojo ga kieta hamabe (About Elly, 2009) won the Silver Bear for Best Director at Berlin Festival. With his previous films, Raghs dar ghobar (2003) and Chaharshanbe-soori (2006), he also competed at the Moscow and Locarno Festivals, respectively. Jodaeiye Nader ez Simin (Nader and Simin, A separation) triumphed at the last Berlin Festival, where it carried off the Golden Bear for Best Film, plus the Silver Bear for Best Actor and Actress.
Director:
Asghar Farhadi
Screenplay:
Asghar Farhadi
Production:
Asghar Farhadi


Photography:
Mahmood Kalari
Edition:
Hayedeh Safiyari
Cast:
Leila Hatami, Peyman Moadi, Shahab Hosseini, Sareh Bayat, Sarina Farhadi
Format:
35 mm
Sales:
Memento Films International
9, Cité Paradis
75010 Paris
Tel 33 1 53 34 9020
Fax 33 4 93 38 7561
sales@memento-films.com
Emilie Georges MEMENTO FILMS INTERNATIONAL Tel +33 1 53 34 90 20/21 emilie@memento-films.com
Running Time:
123 m.
Year:
2011
Director:
Format: