Young Laura clings to her dream of becoming a beauty queen. Her obsession to gain the title lands her in the hands of a gang that's wreaking terror in northern Mexico. Although she finally bags the crown, her experience as an involuntary participant in the violent gang wars that are shaking the country will change her life.
Gerardo Naranjo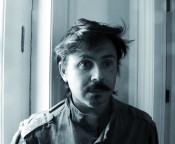 Gerardo Naranjo (Mexico City, 1971) formerly directed the films Malachance (2004), Dramamex (2006) and Voy a explotar (2008), winner of the FIPRESCI critics' award at Thessaloniki Festival and three prizes at Guadalajara Festival. Miss Bala competed in the Un Certain Regard section at the last Cannes Festival.
Director:
Gerardo Naranjo
Screenplay:
Gerardo Naranzo, Mauricio Katz
Production:
Pablo Cruz
Canana Films
Tel 55 4777 7935 40
pablo@canana.net

Photography:
Mátyas Erdély
Edition:
Gerardo Naranjo
Music:
Emilio Kauderer
Cast:
Stephanie Sigman, Noé Hernández, James Russo, Irene Azuela
Format:
35 mm
Sales:
Fox International Productions
Tel 1 310 369 2776
Shebnem.Askin-Schreger@fox.com
Shebnem Askin-Schreger FOX INTERNATIONAL PRODUCTIONS Tel +310 369 27 76 Shebnem.Askin-Schreger@fox.com
Running Time:
113 m.
Director:
Format: