Although it's Sunday and election day, Salvador gets up early and starts working on his plot like any other morning. He is a humble, peaceful man who pays little attention to the ruckus caused in the village by the election of the next mayor. But his routine is suddenly upset. At some stage during the night, someone has thrown a pile of corpses into his cornfield. Concerned and angry, Salvador makes his way into the village to report the massacre; however, the mayor and commanding police officer decide not to pass on the report so as not to disturb the voting.
Carlos Moreno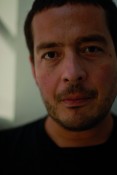 Carlos Moreno already stood out with his first work Perro come perro, which competed at the Sundance Festival and won prizes at Guadalajara and Huelva, in addition to participating in the Horizontes Latinos section at the 56th edition of San Sebastian Festival (2008). Todos tus muertos participated in the Films in Progress section of San Sebastian Festival's 58th edition (2010) and later competed at the Sundance and Rotterdam festivals.
Director:
Carlos Moreno
Screenplay:
Carlos Moreno, Alonso Torres
Production:
Diego Ramírez
64-a Films
Carrera 10#73-34 Ofc 201
Bogotá
Tel 57 311 307 1046
diego@64afilms.com
www.64afilms.com
Photography:
Diego Jiménez
Cast:
Alvaro Rodríguez, Jorge Herrera, Martha Márquez, Harold De Vasten, John Alex Castillo
Format:
HDCAM
Sales:
Shoreline Entertainment
1875 Century Park East #600
Los Angeles, CA 90067
Tel 1 310 551 2060
Fax 1 702 974 0707
info@slefilms.com
Sam Eigen SHORELINE ENTERTAINMENT Tel +1 310 551 2060 sam@shorelineentertainment.com
Running Time:
88 m.
Director:
Format: