Silvia is a young girl marked by a dark childhood. When she is barely twenty-five, she decides to start over and to face the people, feelings and emotions that keep her bound to the past. In her fight against adversity and against herself, she will learn to control her fears and become an adult, responsible for her own actions.
Montxo Armendáriz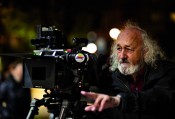 Following his first feature, Tasio (1984), he won the Silver Shell at San Sebastian with 27 horas (27 hours, 1986) and the Golden Shell with Las cartas de Alou (Letters from Alou, 1990). He later directed Historias del Kronen (1994), Secretos del corazón (Secrets of the Heart, 1997), winner of the Best European Film Award at Berlin Festival and 4 Goyas, Silencio roto (2001), Escenario móvil (2004) and Obaba (2005), which opened the San Sebastian Festival that year. He was a member of the Official Jury at San Sebastian Festival in 1995 and won the National Cinematography Prize in 1998.
Director:
Montxo Armendáriz
Screenplay:
Montxo Armendáriz
Argumento:
María Laura Gargarella
Production:
Puy Oria, Montxo Armendáriz
Oria Films, S.L.
Tel 34 91 540 11 57
Fax 34 91 540 18 87
oriafilms@telefonica.net
Photography:
Alex Catalán
Edition:
Fernando Franco
Cast:
Lluís Homar, Michelle Jenner, Belén Rueda, Nuria Gago, Rubén Ochandiano
Format:
DCP
Sales:
Funny Balloons (Peter Danner)
Tel 33 1 40 13 05 86
Fax 33 1 42 33 34 99
info@funny-balloons.com
Peter Danner FUNNY BALLOONS Tel +33 1 40 13 05 85 pdanner@funny-ballons.com
Web:
Running Time:
90 m.
Director:
Format: