Dino is a cat who leads a double life. By day, he lives with Zoé, a little girl whose mother, Jeanne, is a police officer. By night, he wanders the roofs of Paris with Nico, a dexterous burglar. Jeanne is on edge. Not only must she arrest the cat burglar responsible for numerous jewelry thefts, but she also has to oversee the surveillance of the Colossus of Nairobi, a giant statue coveted by public enemy number one, Victor Costa. The gangster is also responsible for the death of a police officer, Jeanne's husband and Zoé's father. Since this drama, the little girl has withdrawn into silence and hasn't uttered a word. Events come to a head the night Zoé comes across Costa and his gang by surprise.
Jean-Loup Felicioli, Alain Gagnol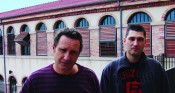 Alain Gagnol is a writer, with several books published, the most recent of which are Axel et Joséphine, Pire que terrible and Léon a peur. Jean-Loup Felicioli has directed several short films, including Sculptures (1989) and Le wall (1991). They started playing together in 1995, with the animated short L'égoïste, followed by Le nez à la fenêtre (2001), Le couloir (2005) and Mauvais temps (2006).
Director:
Jean-Loup Felicioli, Alain Gagnol
Screenplay:
Alain Gagnol
Production:
Folimage - Jacques-Rémy Girerd
Photography:
Irudia / Imagen / Image: Izu Troin
Voices:
Dominique Blanc, Bruno Salomone, Jean Benguigui, Bernadette Lafont
Format:
35 mm
Sales:
Films Distribution
34, rue du Louvre
75001 Paris
Tel 33 1 53 10 33 99
Fax 33 1 53 10 33 98
info@filmsdistribution.com
www.filmsdistribution.com

François Yon FILMS DISTRIBUTION Tel +33 603 49 65 00 fry@filmsdistribution.com
Web:
Running Time:
65 m.
Year:
2010
Director:
Format: