The theatre in Rome's Rebibbia prison. The performance of Shakespeare's Julius Caesar comes to an end and the performers are rewarded with rapturous applause. The lights go out; the actors leave the stage and return to their cells. Six months earlier, the prison director and a theatre director approach the prisoners to discuss a new project, to put on Julius Caesar in the jail. The first step is the cast. The second, to study the text. Shakespeare's universal language will help the prisoners to identify with the characters. It's a long, difficult road, plagued with anxiety and hope. Those are generally the feelings that invade the prisoners in their cells after rehearsals. Who is Giovanni, the man who plays Caesar? And who is Salvatore, turned into Brutus? And what did they do to land in prison?
Paolo Taviani, Vittorio Taviani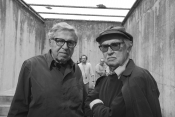 Born in San Miniato (Pisa), the Taviani brothers have always co-written and co-directed their films. They started working in the sixties and have directed both fiction and documentaries. They won the Palme d'Or at the Festival de Cannes in 1977 for the film Padre padrone, and with the Grand Jury Prize in 1982 for La notte di San Lorenzo. In 1986, the Venice Festival honoured them with a Golden Lion life achievement award. Their latest film Cesare deve morire (Caesar Must Die), won the Golden Bear at the last Berlin Festival and five David di Donatello awards.

Director:
Paolo Taviani, Vittorio Taviani
Paolo Taviani, Vittorio Taviani
Script:
Paolo Taviani, Vittorio Taviani (Fabio Cavalliren lankidetzarekin / With the collaboration of Fabio Cavalli / Con la colaboración de Fabio Cavalli)
Kaos Cinematografica
Grazia Volpi
Via Paolo Emilio 34 00192 Roma
Italy
Production:
Grazia Volpi
Kaos Cinematografica
Via Paolo Emilio 34 00192 Roma
ITALIA
Donatella Palermo
Agnese Fontana
Photography:
Simone Zampagni
Edition:
Roberto Perpignani
Music:
Giuliano Taviani, Carmelo Travia
Cast:
Cosimo Rega, Salvatore Striano, Giovanni Arcuri, Antonio Frasca, Juan Dario Bonetti, Vittorio Parrella
Sales:
Rai Trade
Running time:
76 m.
Country:
ITALIA
Year:
2011