An animated film where zombies, witches and other creatures of the night come together in a delightful, exciting magical adventure. Spending some time with the undead soon teaches the dry and rebellious young Dixie to deal with the problems of life.
RICARDO RAMÓN, JOAN ESPINACH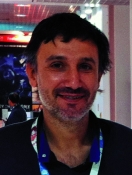 Ricardo Ramón is manager-producer on most works brought out by the Dibulitoon production company. As a director, he produced the series Neko and Buzz Off, and the short Solar Crusade. He was also artistic director on the features Glup, Supertramps, Cristóbal Molón (all produced or co-produced by Dibulitoon), Olentzero, Alex y Alexis and Maroons. Joan Espinach has developed his career in a variety of animated productions, like Peter Pan, El Cid, la leyenda (El Cid, the Legend), The Princess and the Pea and Cher Ami.

Director:
RICARDO RAMÓN, JOAN ESPINACH
Script:
Daniel Torres
Production:
Joxe Portela
Abra Prod, S.L.
Alameda Rekalde, 18-8º 48009 Bilbao
España
Beñat Beitia
Digital Dreams Films, S.L.
Carrer del Perú, 176 08020 Barcelona
España
Music:
Manel Gil Inglada
Web:
Running time:
88 m.
Country:
ESPAÑA
Year:
2011