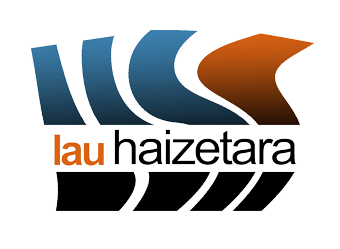 XIII LAU HAIZETARA DOCUMENTARY FILM CO-PRODUCTION FORUM
Kursaal, The Industry Club, Rooms 8 and 9. Thursday, September, 28th.
The Lau Haizetara Documentary Co-production Forum is promoted by IBAIA (Association of Independent Audiovisual Production Companies of the Basque Country) in collaboration with the Industry Club.

The main aim of this Forum is to offer audiovisual sector professionals a meeting point to promote coproduction relationships between production companies in European regions. Consequently, the Coproduction Forum will bring together professionals from the audiovisual and cinematographic sector.
The session will run morning and afternoon and will include pitching sessions and individual meetings, which will allow producers to present their projects to European Commissioning Editors and different film industry professionals.
For further information:


Selected projects:

I AM NOT YOUR SLAVE (*)
Directors: Fátima Subeh - Edu Marín
Production: Contramedia Films - AlemDoc
Spain

BREAKPOINT, A COUNTER HISTORY OF PROGRESS
Director: Jean-Robert Viallet
Production: Cinephage
France
EL SONIDO DEL "CRACK"
Director: Ander Iriarte Alvarez
Production: Irusoin, S.L. - Mirokutana.Koop
Spain
GET SETTLED!
Director: Karin Wegsjö
Production: Karin Wegsjö Produktion
Sweden
Mr. RIPLEY, EL ARTE DE LA ESTAFA
Directors: Gentzane Martínez de Osaba - Alejandro García de Vicuña
Production: Marmoka Films
Spain
NOMBRE EN CLAVE: MAVERICK
Director: Patxi Basabe
Production: Contrasentido P.C. - Zinema Variétés
Spain
NOODLE DREAM
Director: Hou Ning
Production: 24 images - Dynamic Communication Company
France – China
PANAMA AL BROWN, A MYSTERIOUS FORCE
Director: Jacques Goldstein
Production: Bachibouzouk
France
PHOTOGRAPH-WOMEN
Director: Ester Sparatore
Production: Tiresias Films - Kino Produzioni
France – Italy
PRISONERS WITHOUT PRISON (*)
Director: Verjana Abazaj
Production: Mov(i)e ON
Albania
ROL&ROL
Director: Chus Gutiérrez
Production: Turanga Films, S.L.U. - Revolution Films, S.L.
Spain
TOLYATTI ADRIFT
Director: Laura Sisteró
Production: Boogaloo Films
Spain
(*)
This project has participated in the last FIPA's edition (Festival International de Programmes Audiovisuels, Biarritz-France)