Zinemaldia Statup Challenge Award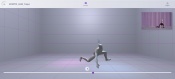 Yassine Tahi - Henri Mirande
(France)
---
The winning business project will receive a cash prize of 10,000 euros.
The 5 finalist projects will also receive the following:
The possibility of free access to an incubation space during the first year of their visit, at one of the BICs belonging to the Basque Technology Park Network.
The possibility of access to funding of up to 500,000 euros to develop your project. (*)
(*) Some programmes providing funding support and backing require proof of registered residence in the Basque Autonomous Community and/or of having a registered company address in the Basque Autonomous Community.