Selected projects - 2018
Arantza Santesteban
Spain
Production: Marina Lameiro, HIRUKI.
CHUPACABRA – Nest.Film Students Category
Grigory Kolomytsev
Rusia
Production: Fedor Popov, VGIK – Debut
EL AGUA – National Category
Elena López Riera
Spain
Production: Eugenia Mumenthaler and David Epinay, ALINA FILMS
DORMEN OS PEIXES DE OLHOS ABERTOS – International Category
Nele Wohlatz
Brazil
Production: Dora Amorim, PONTE PRODUCOES
EL OASIS – International Category
Manuel Abramovich
Argentina
---
The fourth edition of Ikusmira Berriak selects projects from Manuel Abramovich, Grigory Kolomytsev, Elena López Riera, Arantza Santesteban, and Nele Wohlatz
The inclusion of Elías Querejeta Zine Eskola as a residency programme partner allows the number of offerings selected to increase from four to five
Filmmakers from Germany, Argentina, Spain, and Russia will develop their audiovisual projects within the framework of the Ikusmira Berriak programme, which is celebrating its fourth edition this year. The selection committee, which is comprised of members from the Tabakalera International Centre for Contemporary Culture, the San Sebastian Film Festival and, for the first time, Elías Querejeta Zine Eskola, has selected the following projects out of the 155 offerings received from 31 countries: in the international category, El oasis, by Argentine filmmaker Manuel Abramovich (Buenos Aires, 1987) and Dormen os peixes de olhos abertos, by Nele Wohlatz (Hannover, Germany, 1982); in the Spanish filmmaker category, El agua, by Elena López Riera (Orihuela, Spain, 1982); among filmmakers residing in the Basque Autonomous Community, 918 gau, by Arantza Santesteban (Pamplona, Spain, 1979); and among Nest alumni (International Film Students Meeting), Chupacabra, by Grigory Kolomytsev (Krasnodar, Russia, 1990).
Projects on daily life in prison, the porn industry, legends, childhood, and alienation inspire the five chosen offerings. The fifth project was chosen thanks to Elías Querejeta Zine Eskola's partnership in the audiovisual residency programme organised by the Tabakalera International Centre for Contemporary Culture and the San Sebastian Film Festival.
Several of the filmmakers chosen have enjoyed considerable success at international festivals. Abramovich has premiered his films in Berlin and Karlovy Vary, where he received a special mention, and last year Soldado, his latest film, was shown at Zabaltegi-Tabakalera; López Riera has presented two of her productions at the Director's Fortnight in Cannes and Locarno; and Nele Wohlatz won the award for Best First Feature in Locarno and Zinebi with El Futuro Perfecto. Kolomytsev was selected two years in a row (2016 and 2017) at Nest, and the Arantza Santesteban's latest work, co-directed with Irati Gorostidi, was shown at the last Festival in the Zinemira selection, at the Kimuak catalogue sessions for professionals.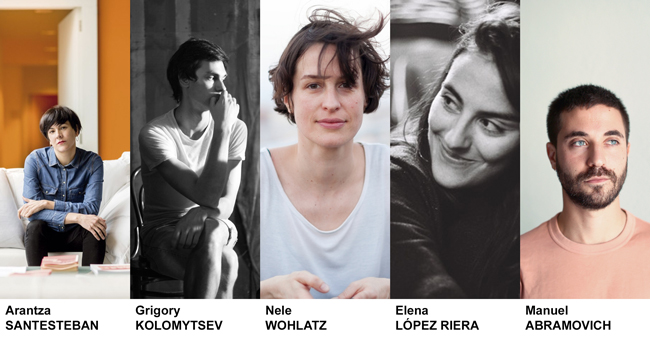 ---
The call for the fith edition with a model of dual-period residence is open
The programme of residencies and development of audiovisual projects Ikusmira Berriak, which is organised by the San Sebastian Film Festival, the Tabakalera International Centre for Contemporary Culture and the Elías Querejeta Cinema School, is changing its model with the call for the fifth edition. So that the film-makers get as much as possible out of the residency, the residency will be split into two periods, with one in February and one in September.
Residents will develop their projects for four weeks between February and March, during which they will attend workshops for film-makers and directors and will be advised by members of the expert committee, which in 2019 will be composed of Savina Neirotti, Sergio Oksman and Valeska Grisebach, who joins the programme.
From March to September, the directors will continue working on their project. During this period, they will receive online tutoring from the experts, and then in September they will return to San Sebastian to complete the last two weeks of their residency, when they will arrive with their project in a more advanced state so that they can share it with the film industry. During this last phase, a learning workshop on the market environment will be organised for them, and they will be prepared for the pitching session (presentation of the project) with the aim of holding meetings with the industry professionals present at the Festival.
The call for the fifth edition of Ikusmira Berriak, with its new structure, will open on 9 July and will close on 31 August. The projects selected will be announced in October. (www.ikusmiraberriak.eu)
For their part, the five residents from the fourth edition - Manuel Abramovich, Nele Wohlatz, Elena López Riera, Arantza Santesteban and Grigory Kolomytsev - will begin their residency on 20 August.
Three projects chosen during the first editions of Ikusmira Berriak have been completed and have been screened at the Festival: the short films El extraño by Pablo Álvarez, Calipatria by Leo Calice and Gerhard Treml and Gwendolyn Green by Tamyka Smith were presented at Zabaltegi-Tabakalera in 2016 and 2017. The programme's first finished feature film will première this year: Trote, directed by Xacio Baño, who was a resident in the first edition of the programme.
Ikusmira Berriak is a programme that seeks to involve new talent as well as producers and people from the audiovisual industry who support innovation and new languages. It is organised by Tabakalera, the San Sebastian Film Festival, and the Elías Querejeta Cinema School in collaboration with REC Recording Studio and the Basque Film Library, and is part of the San Sebastian 2016 European Capital of Culture legacy.
EXPERTS COMMITTE BIOGRAPHIES

VALESKA GRISEBACH
Studied Philosophy and German in Berlin, Munich and Viena. In 1993 began studying filmmaking in the Cinema Academy in Viena with Peter Patzak, Wolfgang Glück and Michael Haneke. Her graduation film Mein Stern, won the Critics Prize in the Toronto International Film Festival and The Great Prize in the Turin Film Festival.




SAVINA NEIROTTI
Born in Genova, she graduated in Philosophy and completed the first year of Master in Aesthetics at the University of Pennsylvania.
After returning to Italy, she became Head of the Press and Communication Office of the Orchestra Sinfonica Nazionale della RAI, where she was also in charge of the Educational Department.
In the same years she founded Scuola Holden in Torino together with Alessandro Baricco. She has recently been appointed as CEO of Scuola Holden.
In the last ten years she has written articles and interviews on narration and classical music, book reviews and film reviews for Italian and international newspapers.
She has ideated and directed Script&Pitch Workshops since 2005, and TorinoFilmLab -an international lab supporting emerging talents mainly working on their first and second feature films, through training, development and funding activities- since 2008. She is also Head of Programme of Biennale College – Cinema and Biennale College Cinema Virtual Reality. Neirotti was member of the Zabaltegi-Tabakalera Award jury at the last edition of the San Sebastián Film Festival.


SERGIO OKSMAN
A Brazilian resident in Madrid for the past twenty years, Sergio Oksman is a director and a teacher at ECAM. His career is closely tied to documentaries, and Elías Querejeta has produced six of his works. Films he has directed include A Esteticista (2004), Goodbye, America (2006), Notes on the other (2009), A story of the Modlins (2012) or O Futebol (2015).