The North American actor receives the Donostia Award for lifetime achievement
Wednesday, September 22nd, 2021
Tonight the actor, director and producer Johnny Depp received the second and last Donostia Award of San Sebastian Festival's 69th edition, an honorary award and toast to the career of the man who has starred in films including Edward Scissorhands (1990), Dead Man (1995) and Donnie Brasco (1997). The gala in the Kursaal Auditorium was taken through its steps by the journalist Edurne Ormazabal and Depp received the award from the Festival Director, José Luis Rebordinos.
In his almost a hundred characters, we often find "madness and tenderness, acerbity and tears in a single character", according to the gala script. "Capturing complexity and making it your own is a difficult art which this actor has, without a doubt, masterfully grasped," said Ormazabal about the actor who plays the lead in the Pirates of the Caribbean saga and has worked under filmmakers including Emir Kusturica, Lasse Hallström, Tim Burton, Jim Jarmusch, Mike Newell and Terry Gilliam.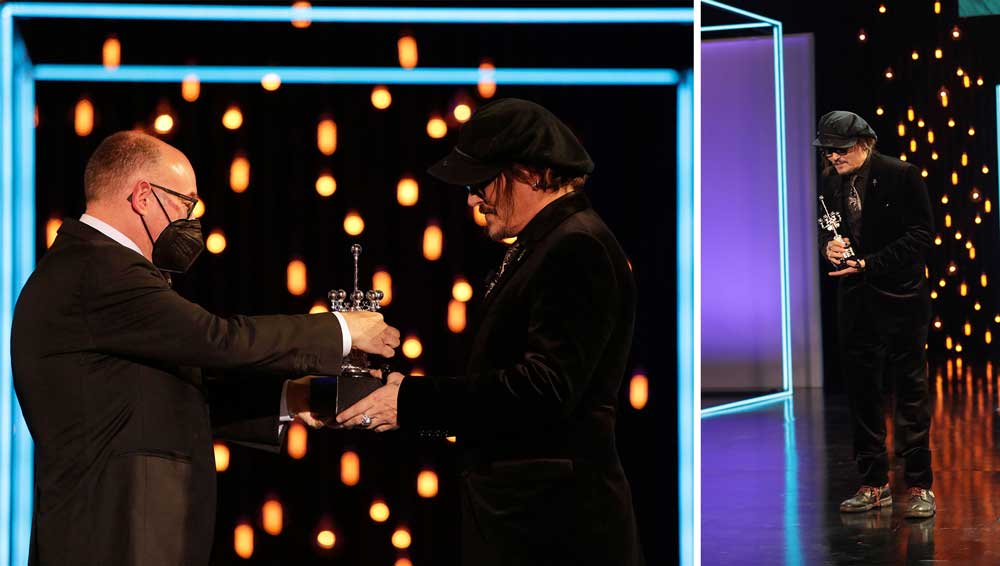 "I am deeply grateful, it is an honour to receive this award. I am here today for one reason only, for the people, because cinema is for the people. People are in charge and there are a lot of bosses here", said the North American actor in his speech when he received the award from Rebordinos. "This is a real film festival where the films and the people who do it are at the centre. Thanks to the Festival and the entire city for this warm welcome", declared the actor, who has featured in stellar casts alongside Marlon Brando, Helena Bonham Carter, Javier Bardem, Kate Winslet, Judi Dench, Antonio Banderas, Al Pacino, Morgan Freeman, Leonardo Di Caprio and Marion Cotillard.
Precisely, after congratulating the "fantastic and wonderful" Marion Cotillard, who on Friday received the first Donostia Award of this edition, Johnny Depp said he accepted the award "in all humility" and stressed that, although hierarchy exists in any business or situation, it is the people around the hierarchy that are the most important: "Thanks to the people I stay inspired and I have the strength to keep moving".
This time round at the 69th edition is Johnny Depp's third visit to San Sebastian, following his whistle-stop appearance in 1998 with Terry Gilliam to present Fear and Loathing in Las Vegas and his return to the Festival in 2020 as the producer of Crock of Gold: A Few Rounds with Shane MacGowan, the documentary for which Julien Temple carried off the Special Jury Prize.