Eight films produced in Argentina, Chile, Mexico, Peru and Uruguay in collaboration with other countries will participate in Films in Progress 15, to take place as part of the Rencontres Cinémas d'Amérique Latine in Toulouse on 26 and 27 March, jointly organised with San Sebastian Festival. This event will round off its twice-yearly rendezvous with Films in Progress 16 at the 57th San Sebastian Festival on 22 and 23 September.
The movies selected for Films in Progress 15 are:
77 Doronship, by Pablo Agüero (Argentina)
Contracorriente, by Javier Fuentes-León (Peru-Colombia-France-Germany)
El cuarto de Leo, by Enrique Buchichio (Uruguay)
La invención de la carne, by Santiago Loza (Argentina)
Jardines del Paraíso, by Héctor Gálvez (Peru)
Perpetuum Mobile, by Nicolás Pereda (Mexico)
Te creís la más linda, by Ché Sandoval (Chile)
La vida útil, by Federico Veiroj (Uruguay)
Films in Progress received a total of 73 candidate films from a combination of 18 countries: Argentina, Bolivia, Brazil, Colombia, Costa Rica, Cuba, Chile, Germany, Guatemala, Japan, Mexico, Panama, Paraguay, Peru, Spain, Uruguay, the USA and Venezuela.
---
THE AWARDS
The Toulouse Films in Progress Award, granted by the Confédération Internationale des Cinémas d'Art & Essai (CICAE), the Centre National de la Cinématographie (CNC), Europa Distribution, Mactari, and Titra Film, will be awarded at Films in Progress 15. The Toulouse Films in Progress Award carries post-production services from the associate companies plus promotional services and initiatives for the winning film.
THE CONFÉDÉRATION INTERNATIONALE DES CINÉMAS D'ART ET ESSAI (CICAE) works to encourage exhibitors and distributors, backing dissemination of the film with its inclusion in Confédération informative circulars and its screening in the 2,000 arthouse cinemas.
THE CENTRE NATIONAL DE LA CINÉMATOGRAPHIE (CNC) will provide €10,000 towards the cost of post-production in France.
EUROPA DISTRIBUTION will take charge of coordination between the member distributors of Europa Distribution and Films in Progress. It will circulate a document about the film to its 63 members in 19 European countries and organise a private screening of the winning movie at one of its own events.
MACTARI will provide sound editing or mixing worth €15,000.
TITRA FILM will provide the French subtitles.
In addition to the above, the Cannes Festival MARCHÉ DU FILM will provide market passes for producers of the selected films. The films participating in Films in Progress will have access to international diffusion on the INSTITUTO CERVANTES world network.
---
THE PROGRAMME
The professionals-only Films in Progress screenings will take place on 26 and 27 March in the Salle du Sénéchal, Toulouse, with the following programme:
Thursday 26
10:00 - Contracorriente
12:30 - La invención de la carne
15:30 - Te creís la más linda
18:30 - La vida útil
Friday 27
10:00 - Perpetuum mobile
12:00 - Jardines del paraíso
15:00 - 77 Doronship
16:30 - El cuarto de Leo
---
THE SELECTED FILMS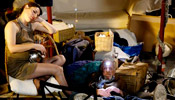 77 DORONSHIP
Argentina.
Director: Pablo Agüero.
Cast: Francisco Morón, Anne Chrétien, Paula Giovanetti
Alone in Paris as the last moments of her pregnancy rapidly approach, Anne waits for the return of her coming baby's father, José, an Argentinean who went out for cigarettes never to be seen again. Just then, José's grandfather arrives from Buenos Aires and moves into the flat to wait for his grandson.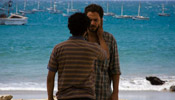 CONTRACORRIENTE
Peru-Colombia.
Director: Javier Fuentes-León
Cast: Cristian Mercado, Manolo Cardona, Tatiana Astengo
Contracorriente is the tale of Miguel, a young married Peruvian fisherman shortly to become a father. Miguel is secretly having an affair with Santiago, a solitary homosexual artist who drowns accidentally. Trapped between the religious, conservative mentality of his village and his emerging new sexuality, Miguel has to accept his true identity to give Santiago a decent traditional burial and ensure the eternal rest of his wandering soul.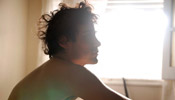 EL CUARTO DE LEO
Uruguay
Director: Enrique Buchichio
Cast: Martín Rodriguez, Cecilia Cosero, Gerardo Bergerez.
Young Leo is fraught with a crisis of sexual identity. He meets Caro, an old primary school friend he fancied as a child; she too is having a hard time. This chance meeting has consequences on the interior conflicts of both characters, without either one truly knowing the other's problem.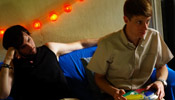 LA INVENCIÓN DE LA CARNE
Argentina.
Director: Santiago Loza.
Cast: Umbra Colomo, Diego Benedetto, Gaby Lerner.
La invención de la carne relates a voyage of uncertain fate. An almost surgical description of the impossible relationship between María, at the end of her tether with anguish, and Mateo, who remains a mystery to himself and is obsessed with the organic workings of the human being. María gives herself up wholeheartedly, seeking redemption in this being unable to rescue her from the depths of her despair, an endeavour nonetheless serving to keep her alive. An unexpected situation emerges from this impossible meeting.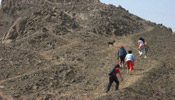 JARDINES DEL PARAÍSO
Peru.
Director: Héctor Gálvez.
Cast: Joaquín Ventura, Yiliana Chong, José Luis García, William Gomez, Gabriela Tello.
Joaquín and his four young pals live in Jardines de Paraíso, a slum on the outskirts of Lima. They spend their time in the barrio, as though imprisoned by it, with neither hope nor future, yet knowing that they have to do something...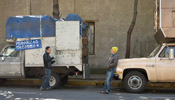 PERPETUUM MOBILE
Mexico.
Director: Nicolás Pereda.
Cast: Gabino Rodríguez, Teresa Sánchez.
24 year-old Gabino drives a removal van in Mexico city. He lives with his mother Teresa, who dotes on his elder brother, Miguel, although he never visits them. His grandmother dies alone in her flat and they don't discover the body until two weeks later...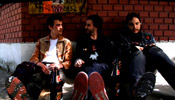 TE CREÍS LA MÁS LINDA
Chile.
Director: Ché Sandoval.
Cast: Martín Castillo, Normando Letelier, Camila Le-bert, Andrea Riquelme.
Te creís la más linda tells the tale of Javier (aged 19) as he wanders the streets of Santiago in search of sexual adventures after a disastrous bedroom romp with Valentina. Over the long hours of the night he runs into all sorts of characters, revealing his woes to them. Although suspects that Valentina is sleeping with his best friend, he'll have to wait till the next day to find out...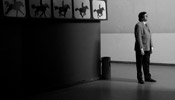 LA VIDA ÚTIL
Uruguay.
Director: Federico Veiroj
Cast: Jorge Jellinek, Manuel Martínez Carril, Paola Venditto, Gonzalo Delgado
Jorge is 45, lives with his parents, and leads a stable, comfortable life. He works as a technician at a film archive and hosts an evening radio show about movies, his true passion. When the archive declines to such an extent that it has to close its doors, Jorge finds himself out of a job and having dedicated his life to nothing but film. Impotent in the face of the situation, he has to change his lifestyle...
---
Films in Progress is sponsored by the Grupo Bruesa and has the decisive backing of Casa de América, Estudios Exa, Interreg III-A Francia-España, Kodak (división de cine profesional), Mediapro, Molinare Madrid, No Problem Sonido, Programa Ibermedia, Technicolor Entertainment Services Spain, Titra Film and TVE, and the collaboration of Ateliers du Cinéma Européen (ACE), Centre National de la Cinématographie (CNC), Confédération Internationale des Cinémas d'Art et Essai (CICAE), Europa Distribution, FNAC, Fondation Groupama GAN pour le Cinéma, Instituto Cervantes, Mactari, Marché du Film, Signis, and Unión Latina.
Films in Progress, the twice-yearly rendezvous at the San Sebastian and Toulouse Festivals, opens its registration period for Films in Progress 15, to take place in Toulouse on 26 and 27 March 2009. This initiative by the San Sebastian International Film Festival and the Rencontres Cinémas d'Amérique Latine in Toulouse focuses on contributing to the completion of Latin American feature films at the post-production stage.
The Films in Progress award and the diffusion of these projects exclusively reserved for professionals attending the two yearly meetings at San Sebastian and Toulouse have greatly contributed to the completion and diffusion of some of the most outstanding Latin American feature films to have made their appearance in recent years.
Films in Progress 15 is open to feature films produced in the different Latin American countries, the filming of which has been completed but which are having difficulties with the post-production process.
The Films in Progress Award will be granted by a jury consisting of representatives of companies and entities involved in the award: