Six films by Adrián Biniez, Alexandra Latishev, Álvaro Aponte-Centeno, Gustavo Rondón, Jaime Osorio and Santiago Esteves to be presented in Films in Progress 30
Films in Progress 30 will run on September 19th, 20th and 21st September
Thursday, August 18th, 2016
Six films have been selected for Films in Progress 30 from among a total of 121 submissions from 23 countries: El silencio del viento (Silence of the Wind) by Álvaro Aponte-Centeno (Puerto Rico - Dominican Republic - France); La educación del Rey (Rey's Education) by Santiago Esteves (Argentina), La familia (The Family) by Gustavo Rondón Córdova (Venezuela - Chile - Norway), Las olas (The Waves) by Adrián Biniez (Uruguay - Argentina), Medea by Alexandra Latishev (Costa Rica - Chile) and Un gran dragón (A Great Dragon) by Jaime Osorio Marquez (Colombia).

Some of the directors presenting works in Films in Progress have already participated in San Sebastian, such as Adrián Biniez, who brought Gigante to Horizontes Latinos in the 57th edition and Álvaro Aponte-Centeno who presented El silencio del viento (Silence of the Wind), formerly Noli, Ibermedia Project at the III Europe-Latin America Co-production Forum, while for the remainder this is their first participation in San Sebastian.

Films in Progress is a must-attend gathering for the Latin American audiovisual industry. Four of the films presented at the last edition of Films in Progress at San Sebastian can be seen in Horizontes Latinos following their screening at international festivals. These include Rara by Pepa San Martín, which participated in the Generation section of the Berlin Festival and won the Generation Kplus International Jury Grand Prix and the movie from Chile, Aquí no ha pasado nada (Much Ado about Nothing) by Alejandro Fernández Almendras, selected for the World Cinema Dramatic Competition at the Sundance Festival, for the Berlinale Panorama and winner of the FIPRESCI Prize at the Cartagena de Indias Festival. Also competing in Horizontes Latinos are El Amparo (formerly Sobrevivientes), by Rober Calzadilla and the winner of the Films in Progress Industry Award at the last edition, Era O Hotel Cambridge (The Cambridge Squatter) by Eliane Caffé, both world premieres.

In addition, El Cristo ciego (The Blind Christ) by Christopher Murray (Films in Progress 29, Toulouse) will compete for the Golden Lion at the Venice Film Festival prior to its screening in Horizontes Latinos at San Sebastian.
---
El silencio del viento / Silence of the Wind
Country(ies) of production:
Puerto Rico - Dominican Republic - France
El silencio del viento is the story of a man who tries to get over his sister's death but can't because he has to continue working at his illegal business of bringing undocumented immigrants from the Dominican Republic to Puerto Rico.

---
La educación del Rey / Rey's education
Country(ies) of production:
Argentina
Escaping from his criminal baptism, Reynaldo Galíndez, alias "Rey", lands in the patio of the house inhabited by Carlos Vargas, a retired security guard. Vargas proposes a deal: the young boy will repair the damage caused to his home when falling in return for not being handed over to the police. The lessons given to the teenager by the old guard will give rise to a relationship not unlike the old legends of educating a king (for the "Rey" of his name, meaning "king" in Spanish). The agreement will start to fall apart when the loose ends of the robbery Reynaldo had participated in start wrapping themselves round them.

---
La familia / The Family
Country(ies) of production:
Venezuela - Chile - Norway
Andrés (35) and his son Pedro (12) live in a working district of Caracas and hardly ever see one another. While Andrés fills his time doing different jobs, Pedro wanders the streets playing with his friends and learning from the violent atmosphere around him. During a pelota game, Pedro fights with a boy, injuring him with a bottle. Andrés is embarrassed when he hears what has happened and decides to flee from the district in search of refuge. This situation will expose a father incapable of controlling his teenage son, but it will also involuntarily bring them closer than they have ever been.

---
Las olas / The Waves
Country(ies) of production:
Uruguay - Argentina
Exhausted on leaving work, Alfonso (38) goes to the beach and dives into the sea. Coming to the surface, he finds himself on another beach, in another time. His parents are waiting for him, calling to him from the water's edge. Alfonso sees and understands everything from his adult's body, even if they treat him like an 11 year old. This is the beginning of a fantastic voyage through the different holidays in his life, where the situations come one after the other with no chronological order, interrupting with a tone of intimacy and entertaining nostalgia his meetings with girlfriends, teenage and childhood pals, his daughter and his loneliness.

---
Medea
Alexandra Latishev Salazar
Country(ies) of production:
Costa Rica - Chile
María José is 25. Her life moves back and forth between the monotony of class at the university, her eternally distant parents and a couple of alternative spaces where she can explore her own and others' limits. One day she meets Javier, a boy she really likes and tries to have a relationship with, but her behaviour starts changing radically. In fact she's a few months into her pregnancy and no one knows.

---
Un gran dragón / A Great Dragon
Country(ies) of production:
Colombia
Marcos, a withdrawn park ranger, sees the fragile balance achieved in his isolation collapse with the arrival of a couple of biologists investing strange bird deaths. Unfortunately, the desire and envy for normality represented by the couple awaken the monster he has been trying to control. His face, his legs and his arms don't belong to him and as the desperation becomes incontrollable, he can only see one way out: mutilation.

Films in Progress Industry Award: The companies Daniel Goldstein, Deluxe Spain, Dolby Iberia, Laserfilm Cine y Video, Nephilim producciones, No Problem Sonido and Wanda Visión will assume the post-production of a film until obtaining a DCP with English subtitles and its distribution in Spain.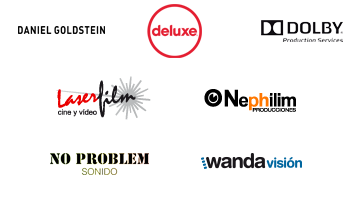 CACI/Ibermedia TV Films in Progress Award for the work winning the Films in Progress Industry Award. Granted by the Conference of Ibero-American Cinematographic Authorities through the Ibermedia Programme, the award consists of including the film in the Television Broadcasting Subsidy Programme: authorisation for non-exclusive broadcasting on Ibermedia TV and Ibermedia Digital amounting to 25,000 USD (fiction feature film) or 15,000 USD (documentary).

Films in Progress is the programme of aid to Latin American films called twice yearly by the San Sebastian Festival and Cinélatino, Rencontres de Toulouse.
Films in Progress has the backing of the following companies and institutions: Association Rencontres Cinémas d'Amérique Latine de Toulouse (ARCALT), Conferencia de Autoridades Cinematográficas Iberoamericanas (CACI), Daniel Goldstein, Deluxe Spain, Dolby Iberia, Laserfilm Cine y Video, Nephilim producciones, No problem Sonido, Programa Ibermedia and Wanda Visión. It also has the collaboration of Caisse Centrale d'Activités Sociales du personnel des industries électriques et gazières (CCAS), Centre National du Cinéma et de l'Image Animée (CNC), CINÉ + Commune Image, Confédération Internationale des Cinémas d'Art et Essai (CICAE), Conseil Général de la Haute Garonne, Eaux Vives, École Supérieure d'Audiovisuel (ESAV), Europa Distribution, Firefly, La Cinéfondation, Mactari, Mairie de Toulouse, Producers Network - Festival de Cannes, Région Occitanie - Pyrénées Méditerranée, Signis and TitraFilm.
---

With the support of