Culinary Zinema, the San Sebastian Festival section combining cinema and gastronomy, brings in its ninth edition not only ingredients such as cheese and chocolate, but also others, more intangible, including the relationship with local producers, integration in a host country, family transmission, beauty and the medicinal properties of food.
Yoshihiru Fukagawa (Chiba, Japan, 1976), who presented his film Byakuyako / Into the White Night (2011) in the Panorama section at the Berlinale, will present in San Sebastian the European premiere of Sora no restaurant about a farmer dedicated to making cheese who is encouraged by a chef's visit to join his friends in opening a restaurant for a single day only, serving food made using nothing but local produce with a low carbon footprint.
The other Japanese production is the debut film by Takashi Watanabe, author of several TV documentaries. Le chocolat de H, selected for the Seattle and Tokyo festivals, follows a famous master chocolatier and a pastry chef who, having won five times at the Salon du Chocolat in Paris, continue to travel around Japan and Ecuador in search of new recipes.
Park Hye-ryoung, who has directed more than 40 documentaries for South Korean television, premiered in Hotdocs her film The Wandering Chef, looking at the famous chef Jiho Im, who travels all over his country to find ingredients with healing properties.
Mariko Bobrik has an outstanding career as a maker of short films. Kooniklaster (2007) won the best international short film award at the Los Angeles Festival and Necesito saber (2015) was presented at Cannes. In addition, the Polish filmmaker has been selected for the Cinéfondation (2012) and Berlinale Talents (2013) programmes. Her first feature film, The Taste of Pho, stars a Vietnamese chef living in Warsaw, where he tries to fit in with the European culture that his daughter has already accepted as her own.
The first feature film by Michael Lei, Un sabor de cielo / A Taste of Sky, premiered at the Tribeca Festival. The film follows the destinies of two Bolivian students at the Gustu restaurant, a cookery school for young disadvantaged people founded by Claus Meyer, one of the creators of the restaurant named best in the world four times, Noma.
Last year in Culinary Zinema Alfred Oliveri presented his debut film: Tegui: Un asunto de familia / Tegui: A Family Affair.This time round he will present La leyenda de Don Julio: corazón & hueso (The Legend of Don Julio: Meat & Bones), about three generations of a family who turn a local grill into a hugely popular steakhouse.
In Cocinar belleza, Sergio Piera tries to answer a question: Can a flavour be beautiful? The debate, directed by the publicist Toni Segarra and the chef Quique Dacosta, poses the question to a group of artists.
Iñaki Arteta (Bilbao, 1959), author of Trece entre mil (2005) and 1980 (2014), takes a closer look at the personality of the chef at the Etxebarri steakhouse in Bittor Arginzoniz. Vivir en el silencio, about a self-taught culinarian who has made his restaurant one of the best in the world.
Lastly, the journalist Mikel Urretabizkaia, author of El secreto de Urdaneta, follows the trail of the Idiazabal cheese universe in the Urbia, Aralar and Gorbea mountain ranges. Gazta boasts, among others, the testimonies of Eli Arrillaga, Juan Mari and Elena Arzak, Eneko Atxa and Joan Roca.
Short films
The short film Zer jan hura izan, by Igor Arabaolaza, takes the testimonies of producers and chefs to analyse subjects including sustainability, the generation takeover, the importance of the producer in cuisine and of the rural world.
The section will also include the three winning short films of the Nespresso Talents contest in Spain: La receta de la vida /The Recipe of Life (Marta López and Eduardo Peiró), Huele a ti / Smells like You (Marc Vadillo and Marwan Sabri) and Nouvelle Cuisine (José Prada and Victoria Fresneda).
Dinners
Seven of the nine feature films in the section will be accompanied by themed dinners, taking place from September 21-27 at the Basque Culinary Centre, at the Ni Neu restaurant and at Tabakalera's new LABe space. Tickets for the film and dinner will be available for purchase on the Festival and Kutxa websites from 9:00 on Friday, September 6, at a price of 70 euros. Tickets for the films alone will go on sale on September 15 at a price of 7.90 euros.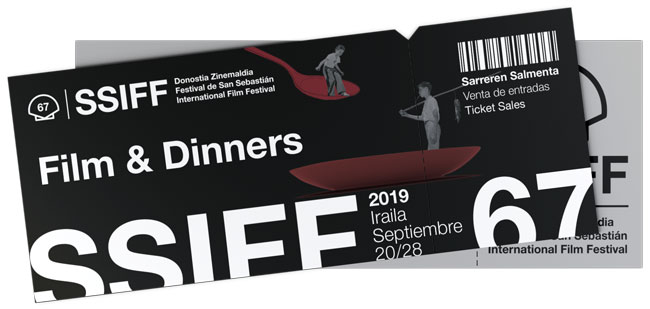 The Culinary Zinema section is sponsored by Nespresso.
---
La leyenda de Don Julio: Corazón & Hueso / The Legend of Don Julio: Meat & Bones
Country(ies) of production:
Argentina
Pablo's life spans three generations associated to meat. Like a premeditated destiny, we enter his story; a man who has had to work hard, from his childhood until his extraordinary present day, turning a simple neighbourhood grill into the world's best steakhouse. The epic everyday life of a local hero.

---
Un sabor de cielo / A Taste of Sky
Country(ies) of production:
USA
In the Bolivian capital of La Paz, a city sitting 13,000 feet above sea level, an ambitious and unlikely culinary project has connected three people from vastly different backgrounds and will forever change their lives. Kenzo, a hunter raised in the wild of the Bolivian Amazon, and Maria Claudia, a native of the Andean altiplano, are far from home. They have come to La Paz thanks to Gustu, a fine-dining restaurant and cooking school for the country's underprivileged youth. Founded by acclaimed Danish restaurateur Claus Meyer, whose last project, Noma, was named Best Restaurant in the World four times, its aim is to guide these young Bolivians towards a better future as they attempt to establish their country as the world's next great culinary destination.
---
Bittor Arginzoniz. Vivir en el silencio / Bittor Arginzoniz. Living in Silence
Country(ies) of production:
Spain
The personality of Bittor Arginzoniz and the place where he lives make his cuisine unique. The possibilities of cooking with charcoal have not been exhausted, and a return to its roots may be admirable if executed with respect and vocation. Self-taught, Bittor has made his restaurant Etxebarri the third best in the world, and minimalism his trademark. The nature that saw his birth is its landscape; the grill and the finest products, the materials he works with. And the silence. Silence in its walks, in nature, in the coals, in the choice of adequate product and the exact point of its preparation.
---
Cocinar Belleza
Country(ies) of production:
Spain
Cocinar belleza gathers a group of authorised voices with different artistic profiles around a simple question: can a flavour be beautiful? With this concept, a debate is opened, moderated by the figures of the publicist Toni Segarra and the 3-star Michelin chef, Quique Dacosta, a world reference of cutting-edge gastronomy. One of the vocations of the art is to create beauty. Paradoxically, beauty as a concept has almost never been used in conjunction with taste. Dacosta approaches each one of these artists to jointly mull over the question of whether avant garde cuisine is an artistic discipline.
---
Gazta
Country(ies) of production:
Spain
A journey around the universe of Idiazabal cheese in the company of exceptional characters like Eli Arrillaga who, widowed at the age of 24 years, had to choose between following her husband's trade of shepherding, or returning to her urban environment in Zarautz. Eli continued to work as a shepherd and is today one of the most important producers of this cheese. Exceptional characters like Juan Mari and Elena Arzak, Eneko Atxa, Joan Roca, Martín Berasategui, Pedro Subijana and Andoni Luis Aduriz, who have absolutely no doubts as to the importance of an artisan, high quality produce that fits perfectly into their demanding culinary procedure. On the Urbía, Aralar and Gorbea mountain ranges, in the highlands of Navarre, the shepherds lavish care on their herds, their prized latxa sheep, with a view to obtaining a product of fine quality, capable of winning the annual cheese competition in Ordizia.
---
Le chocolat de H
Country(ies) of production:
Japan
Cast:
Hironobu Tsujiguchi
Tsujiguchi Hironobu is a famous Japanese pastry chef who has won five times at the Salon du Chocolate in Paris, but is still not satisfied with himself. The film follows his journey around Japan and Ecuador on the trail of certain ingredients to complete his new chocolate recipes.

---
Sora no restaurant / Restaurant from the Sky
Country(ies) of production:
Japan
Cast:
Yo Oizumi
, Manami Honjo
, Masaki Okada
Wataru makes cheese and lives happily in Setana, Hokkaido, with his wife Kotoe and daughter Shiori. One day, his products and those of his friends attract the attention of a famous chef and they begin to plan a 1-day-only restaurant to spread their joy to others.

---
The Taste of Pho
Country(ies) of production:
Poland - Germany
Cast:
Lena Nguyen
, Long Thang Long Do
A Warsaw-based Vietnamese cook struggles to fit into the European culture, which his ten year old daughter has already embraced as her own. A story about love, misunderstanding and food.

---
The Wandering Chef
Country(ies) of production:
South Korea
Celebrity Jiho Im, better known as the Wandering Chef, travels from one end of the Korean peninsula to the other in search of the most unique ingredients known for their medicinal properties. All of his sources come from Mother Nature, who has been looking after him since he ran away from home at the age of thirteen. But the pain of having had no one to call Mother is something he has carried with him for years. Until one day, he meets Kim Soon-gyu, who lives in the last village at the top of Mount Jiri, and who serves him a homemade soup that conjures up memories of his childhood.

---
Zer jan hura izan / You Are What You Eat
(Short film)
Country(ies) of production:
Spain
The documentary analyses the relationship between producers and chefs based on their own testimonies. It touches on subjects such as the importance of the produce in the kitchen, sustainability, the generational takeover and promotion of the rural world.

---
La receta de la vida
(Short film)
Marta López
, Eduardo Peiró
Country(ies) of production:
Spain
Cast:
Amparo Vídal
, Clara Peiró
The recipe of a traditional Valencian dish, paella, is the perfect excuse for meeting Amparo, a 96-year-old woman who explains, between ingredients, the secret of her life: optimism, happiness and enthusiasm. With the pretext of making a paella, and accompanied by her 8-year-old great-grandson, Amparo looks back at memories of her childhood, of her life, while making sure that our gastronomy is passed on to the younger generations.

---
Huele a ti / Smells Like You
(Short film)
Marc Vadillo
, Marwan Sabri
Country(ies) of production:
Spain
Cast:
Lidia Casanovas
, Miguel Aragón
, David Franco
, Esther Aguilar
Most of the moments we spend with friends, with the family, a date... or, at the end of the day, with our loved-ones, are spent surrounded by food. Imagine meeting the love of your life thanks to food. What dish would make you fall in love?

---
Nouvelle cuisine
(Short film)
Country(ies) of production:
UK
A man prepares a recipe for a very special guest...

Programme
Day - Film




Restaurant




Chefs

---

Opening. Saturday 21

- La leyenda de Don Julio: Corazón & Hueso / "The Legend of Don Julio: Meat & Bones"




Basque Culinary Center




Pablo Rivero

---

Sunday 22

Nespresso Talents 2019:

- La receta de la vida

- Huele a ti / Smells Like You
- Nouvelle cuisine



- Bittor Arginzoniz. Vivir en el silencio / Bittor Arginzoniz. Living in Silence




Basque Culinary Center




Juanan Zaldua, Aitor Arregi & Xabi Gorrotxategi

---

- The Taste of Pho





Ni Neu




Ly Leap, Mikel Gallo

---

- Sora no restaurant / Restaurant from the Sky
- Zer jan hura izan / You Are What You Eat (Eres lo que comes)




Basque Culinary Center




Edorta Lamo, Roberto Ruiz, Luis Salcedo & Luke Dolphin

---

- Cocinar belleza




Basque Culinary Center




Quique Dacosta

---

- The Wandering Chef




Basque Culinary Center




Im Jiho

---

- Un sabor de cielo / A Taste of Sky





LABe (Tabakalera)




Marsia Taha & Kenzo Hirose

---
*Dinners will begin after the film screenings at around 21:00.
FILM + DINNER
SEPTEMBER 21
LA LEYENDA DE DON JULIO: CORAZON & HUESO / THE LEGEND OF DON JULIO: MEAT & BONES by Alfred Oliveri (Argentina)
Chef: Pablo Rivero, from the Don Julio (Buenos Aires)
Venue: Basque Culinary Center (BCC).
The Don Julio restaurant in Buenos Aires represents the essence of the Palermo grill. It is ranked 34 in the list of the World's 50 Best Restaurants, and holds sixth position among the 50 best restaurants in Latin America. Its head chef, Pablo Rivero, will share his gastronomic proposal based on the selection of a product which has marked Argentina. A work that starts with selection of the animal itself and carefully tracks all of the intermediate handling processes until coming to the technique, another element that marks the difference and lends its excellence to the end result.
SEPTEMBER 22
BITTOR ARGINZONIZ. VIVIR EN EL SILENCIO by Iñaki Arteta (Spain)
Chefs: Juanan Zaldua, Restaurante Baserri Maitia (Forua, Bizkaia, Spain); Aitor Arregi, Restaurante Elkano (Getaria, Gipuzkoa, Spain); Xabi Gorrotxategi, Restaurante Casa Julián (Tolosa, Gipuzkoa, Spain)
Venue: BCC.
Fire and hot coals will play the lead part in this evening gathering three prestigious Basque restaurateurs in its kitchen to pay tribute to one of the world's greatest grill-masters: Bittor Arginzoniz, owner of the Asador Etxebarri, ranked third in the list of the World's 50 Best Restaurants. Juanan Zaldua, from the Restaurante Baserri Maitea, Aitor Arregi, from the Restaurante Elkano, and Xabi Gorrotxategi, from the Restaurante Casa Julián, will combine knowledge, technique and tradition to serve the finest of offerings from the grill.
SEPTEMBER 23
THE TASTE OF PHO by Mariko Bobrik (Poland, Germany)
Chef: Ly Leap, Indochine (Barcelona); Mikel Gallo, Ni Neu (San Sebastian)
Lugar: Ni Neu.
Top quality ingredients and creativity are the protagonists of the cuisine produced by Ly Leap. The chef and soul of Barcelona's Indochine restaurant will share the ni neu kitchen with Mikel Gallo to propose a menu with influences of South East Asia. A cocktail of intense and profound flavours identifiable by lovers of spices and their combined preparations.
SEPTEMBER 24
ZER JAN HURA IZAN by Igor Arabaolaza (short film)
SORA NO RESTAURANT / RESTAURANT FROM THE SKY by Yoshihiro Fukagawa (Japan)
Chefs: Nagore Irazuegi, Rodrigo García Fonseca, Arima (Madrid); Luis Salcedo, Restaurante Remigio (Tudela); Luke Dolphin, Restaurante L'Antre (Bidart)
Venue: BCC.
The productions Zer jan hura izan and Sora no Restaurant seek to highlight the importance of local produce, a philosophy shared by the quartet of chefs who will serve up a dinner based on homegrown ingredients. Edorta Lamo, from Aurrea! (Álava), Roberto Ruiz, from Hika (Gipuzkoa, Luis Salcedo, from the Restaurante Remigio (Navarra) and Luke Dolphin from the Restaurant l'Antre (Bidart), will gather at the stove to try and thrill the diners with top quality products and creations.
SEPTEMBER 25
COCINAR BELLEZA / COOKING BEAUTY by Sergio Piera (Spain)
Chef: Quique Dacosta (Denia)
Venue: BCC.
The atmosphere that embraces and seduces Quique Dacosta marks the future of many of the creations produced in Quique Dacosta's Denia restaurant, holder of three Michelin stars. The chef will set about endeavouring to surprise the public with his famous artistic expression in the kitchen, using his culture and territory as a flag, personifying quality, excellence, innovation and tradition.
26 SEPTIEMBRE
THE WANDERING CHEF by Park Hye-ryoung (South Korea)
Chef: Im Jiho, Sandang Restaurant (South Korea)
Venue: BCC
"Food is art and medicinal science". Im Jiho learned how to use food as medicine from his parents, turning it into the inspiration of his cuisine. He united both worlds in his Sandang restaurant, where he also illustrates the profound connection between food, the ritual and memory. This time round, the bohemian, wandering chef will demonstrate his philosophy and style of life based on health and healing with ingredients provided by mother nature.
SEPTEMBER 27
UN SABOR DE CIELO / A TASTE OF SKY by Michael Lei (USA)
Chefs: Kenzo Hirose Velasco and Marsia Taha Mohamed Salas, Gustu Restaurant/School (Bolivia)
Venue: LABe (Tabakalera)
The gastronomic revolution implemented by chef Claus Meyer in Bolivia at the Gustu restaurant and the change that it represented in the lives of two humble students are at the centre of the documentary A Taste of Sky. With a simple and innovative style, Marsia Taha, head chef at the restaurant, and Kenzo Hirose, one of the protagonists of the film, will serve up a meal devised to highlight the aromas, flavours and colours of different Bolivian products. A gastronomic experience with traditional products that will take the diners on a stroll through Bolivia's natural, cultural and geographical diversity.