The Basque National Orchestra, the SGAE Foundation and the San Sebastian Festival present the film music concert that the Basque National Orchestra is offering within the framework of the Festival. The first Saturday of the Festival, the Velodrome will open at noon for music lovers, film buffs and the general public, with a performance blending a symphonic interpretation of soundtracks and a medley of scenes from the films they belong to. It will be an hour and a half of audio-visual delight on Saturday 23 September at 12 o'clock noon. Admission is free of charge.
The film music concert is a classic event in the San Sebastian Festival and is a staple among the offerings of the Velodrome, undoubtedly the Festival's most popular stage, with a capacity for an audience of 3,000. The director from San Sebastian Juan José Ocón will be in charge of directing the orchestra at this multitudinous event with films and film scores.

This year's Concert & Screening features the adaptations of music composed for six films. The composers chosen for this occasion have been: Iván Palomares in Las niñas de cristal; Víctor Reyes in Love gets a room; Julio de La Rosa in Modelo 77; Maite Arroitajauregi and Arantzazu Calleja in Irati; Paula Olaz in Nora; and Fernando Velázquez in Momiak.
For this new concert the Basque National Orchestra has invited Oñatiko Ganbara Abesbatza, which will perform in Las niñas de cristal, Love gets a room, Modelo 77 and Irati.
As in previous years, the concert will have an additional visual element: the music is linked to the screening, on a 400m2 screen, of a medley of scenes from the films and which has been specifically created for this concert by the Morgancrea team. In addition, several composers will attend the concert and will be on the Velodrome's stage to present their work.
Admission is free of charge and it will be necessary to collect the corresponding invitation from 16 to 22 September at the information point of the San Sebastian Festival in the Kursaal, from 9:00 to 20:00, or at the Donostia Tourism office, from Monday to Saturday from 9:00 to 20:00 and on Sunday from 10:00 to 19:00. The last tickets can be collected at the ticket booth of the Velodrome on the day of the concert starting at 10 AM.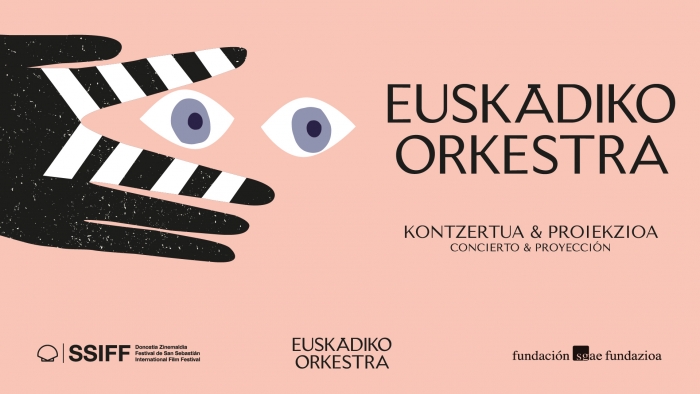 CONCERT & SCREENING
Saturday 23 September, 12:00
San Sebastian Velodrome
Programme
Iván Palomares: Las niñas de cristal* (Director: Jota Linares)
Víctor Reyes: Love gets a Room* (Director: Rodrigo Cortés)
Julio de la Rosa: Modelo 77* (Director: Alberto Rodríguez)
Maite Arroitajauregui / Arantzazu Calleja: Irati* (Director: Paul Urkijo)
Paula Olaz: Nora (Directora: Lara Izagirre)
Fernando Velázquez: Momiak (Directo: Juan Jesús García Galocha)

Juan José Ocón, director
Oñatiko Ganbara Abesbatza, choir*
Basque National Orchestra
Approximate duration of the concert: 1h15
---

The Basque National Orchestra with the Festival
Over the years, the Basque National Orchestra has been present at the San Sebastian Festival in a variety of ways. One of its most notable participations was at the 2012 edition, when the orchestra performed at the live première of the film score for the world-famous film Lo imposible, by Juan Antonio Bayona, a score signed by Fernando Velázquez. Starting the following year, 2013, the orchestra began to offer on a continuous basis a live film music concert, first at its headquarters in Miramon, and from 2015 in the Velodrome, the big stage it has stayed on until this year. During this decade of film music concerts, the orchestra has performed the film scores of feature-length films such as Handia, Errementari, Arrugas, Pájaros de Papel, Los crímenes de Oxford, Tadeo Jones 2, Mientras dure la Guerra, Buñuel en el laberinto de las tortugas… Altogether, Euskadiko Orkestra has performed and given visibility during this time to more than 60 film soundtracks of our cinema. It should also be highlighted that the orchestra recorded the theme music for the Festival for the 1991 and 1992 editions.
In addition to its consolidated collaboration with the San Sebastian Festival, the Basque National Orchestra has explored film music on many occasions. Worth mentioning are the recent recordings of the film scores of Patria and Maixabel, as well as some previous recordings such as Un monstruo viene a verme —for which Fernando Velázquez received the Goya for the Best Original Song 2017—, Ocho Apellidos Vascos, Contratiempo, Submergence, etc.

The SGAE Foundation at the San Sebastian Festival
Since 2012, the SGAE Foundation has been co-organising the non-competitive section Made in Spain, showcasing a selection of Spanish films made over the last year, whether or not they have had their release, to which the festival offers an excellent platform for their introduction to the international arena. These works will screen from 26-30 September at the Berlanga Cinema in Madrid.
The foundation created by the Sociedad General de Autores y Editores (SGAE) also gives the Dunia Ayaso Award for Best Film with a focus on women, which will, in 2023, celebrate its 7th year of paying tribute to the filmmaker from the Canaries who died in 2012.
For its part, the SGAE Euskadi Regional Board will support the Award going to the Best Basque Screenplay bestowed yearly by the Basque Screenwriters Association at the Festival itself.

The Composers
Iván Palomares
Born in Madrid, Iván studied at Madrid's National Conservatory, where he specialised in Orchestra Conducting and Composition, excelling as a pupil and graduating Summa Cum Laude.
He completed his training as a conductor and composer with courses and masterclasses in Brussels, Scotland, Berlin and the USA, under maestros including Philippe Gérard, Enrique García Asensio, Samuel Adler, Benet Casablancas, Ertugrul Sevsay, Hummie Mann and Teresa Catalán. Selected to participate in the Berlinale Talent Campus, he was also selected as one of the only 12 composers in the world to participate in the prestigious ASCAP Film Scoring Workshop in 2015, taking place in the city of Los Angeles, in California.
He has developed his professional career both in the field of concert music (as a composer and director), and in that of composition for audiovisual media, participating in countless projects for the cinema, theatre and television, for which he has reaped numerous national and international awards. Since 2005 he has created more than fifty compositions for soundtracks, TV and commercials. A devotee of multidisciplinary artistic projects, his sensitive score for the film
En las Estrellas
, nominated at the 33rd GOYA Awards, won the Valencian Audiovisual Academy Award, the Mundo BSO Award for Best Spanish Soundtrack, as well as other national and international distinctions and nominations, such as that of Breakthrough Composer from the International Film Music Critics Association (IFMCA).
Víctor Reyes
Víctor Reyes (Salamanca, 25 February 1962) is a musician and composer known for his film and television work. Some of his most popular compositions are the soundtracks for Buried and Grand Piano, both winners of the IFMCA Best Soundtrack Award, and The Night Manager, winning soundtrack of the Emmy in 2016.
Classically trained, he completed his Opera studies at Madrid's National Conservatory, developing a dynamic career in the 90s as an arranger for international musicians such as Julio Iglesias, Plácido Domingo, Ricky Martin and Montserrat Caballé, as well as groups like Mecano, La Década and Cómplices.
It is during this time, and above all since the early 2000, that he came into contact with audiovisual media and wrote the best known soundtracks in his career, the latest of which are: Luces Rojas, in 2012, Down a Dark Hall in 2018, and the production by director Rodrigo Cortés, Love Gets a Room, in 2021. The composer has produced several productions at home and abroad, such as the series El Internado, Las Cumbres and the Mediaset production, Entrevías.
Paula Olaz
Paula Olaz (Pamplona, 1989) is a composer of soundtracks for film, television, theatre, dance and video games. She studied at the Berklee College of Music, from which she graduated Cum Laude. Meanwhile, she studied clinical neuropsychology, enabling her to specialise in the cognitive psychology of soundtracks. After studying in Spain, the USA, Switzerland and Germany, under Javier Asín, Bingen Mendizabal, Cornelius Schwehr, Lucio Godoy and the famous composer Wolfgang Rihm, she started collaborating with Pascal Gaigne in 2017. She is a co-founder of the United Love Movement which, through choir and orchestra music, serves to reflect on human nature and the power of music to bring about change in today's society.
She has composed the music for films including Verano en Rojo (Belén Macías), Alguien que cuide de mí (Elvira Lindo and Daniela Fjerman) and Las Buenas Compañías (In the Company of Women,Silvia Munt). She has also worked in the music department of films such as: Handia, La Trinchera Infinita, Errementari, Remember me, Dantza, Ilargi guztiak and Malpaso. An astronomy aficionado and researcher in the sound world of the universe, in 2017 she recorded and directed at London's prestigious Air Studios a work based on the real images of the Hubble Telescope for the European Space Agency (ESA).
Since then, she has conducted research in the field of data sonification, collaborating with the CERN and HEAD (Geneva, Switzerland), alongside European physicists and astronomers. She also gives classes on soundtracks and music technology at Larrotxene Cultural Centre (San Sebastian) and is the EITB expert in music and science.
Julio de la Rosa
Julio de la Rosa has forged a career as one of the most solid and reliable Spanish soundtrack composers and producers. His peculiar take on everything he does, without straying in the slightest from the intention of the film or the series he accompanies, has earned him myriad laurels, including the Goya for Best Original Score for La isla mínima (Marshland), as well as other accolades and nominations. Apart from thrillers, he is in high demand for romcoms, drama, period and fantasy movies.
Born in Jerez de la Frontera and with a Degree in Audiovisual Communication from the University of Seville, he currently lives in Madrid. He made his break in the audiovisual world in 2005 thanks to the film Siete Vírgenes (Seven Virgins), with acclaimed film director Alberto Rodríguez, becoming his regular composer until today. Since then, he has composed dozens of soundtracks for other Spanish, Latin American and Central European directors, in addition to TV series and platforms, harvesting three Goya Award nominations: for Grupo 7 (Unit 7), El hombre de las mil caras (Smoke & Mirrors) and La isla minima, the film that finally bagged him the statuette, the Medal from the Circle of Film Writers and the Feroz Critics Award. Currently, with his latest soundtrack, Modelo 77 (Prison 77), he has been nominated for the Goya, Feroz, Carmen and CEC Awards, among others. For now, he has already carried off the Días de Cine Award for Best Soundtrack of the Year.
Arantzazu Calleja
Arantzazu Calleja has a degree in fine arts and teaches the violin. She started to write music for films with Borja Cobeaga. Their first collaboration was nominated for the Goya (La primera vez,2001) and the second for the Academy Award (Éramos pocos, 2005). Among her outstanding films are Psiconautas. Los niños olvidados by Alberto Vázquez and Pedro Rivero (Goya 2017 for Best Animated Feature), El Hoyo by Galder Gaztelu-Urrutia and Akelarre by Pablo Agüero, for which she garnered the Goya and Platino Awards 2020 for Best Original Score together with Maite Arroitajauregi. Her latest works are the music for Alauda Ruiz de Azúa's Cinco Lobitos (Lullaby), Paul Urkijo's Irati (with Maite Arroitajauregi) and Borja Cobeaga's series No me gusta conducir. She is currently working on the soundtrack of Rich Flu, an international co-production directed by Galder Gaztelu-Urrutia.
Maite Arroitajauregui
Born in Eibar in 1977, Maite Arroitajauregi has a Degree in Cello from the Gasteiz Higher School of Music and a Diploma in Viola da Gamba from the Juan Cristóstomo de Arriaga Higher School of Music in Bilbao. Having belonged to bands including Anari, Lisabö and Xabier Montoia, in 2009 she created her solo project, Mursego. Under this name, she has released several albums in which she has defined her own musical language, a combination of avant garde, folklore and classical music resulting in more than 200 concerts on stages from Paris to Rome.
Apart from occasional collaborations with the worlds of dance and theatre, she set out on a fruitful path in the audiovisual world, putting the music to several short films, including El rito, 2012 and Herencia by Isaki Lacuesta and Colera by Aritz Moreno, while composing the soundtrack for the feature films Invisible (Victor Iriarte) and Emak Bakia (Oskar Alegría), the latter of which screened in the Zabaltegi section at the Zinemaldia in 2012. In 2015, with Javi Pez, she composed the soundtrack of Asier Altuna's Amama, also shown in the Festival's Official Selection and with which she went on to win the Grand Prix for Best Music at the Montpellier Film Festival. Following yet another immersion in film on producing the soundtrack of Fernando Franco's Morir, in 2018 she composed the music for the play Mutu, by Myriam Perez Cazabón.