The number of accredited guests at the San Sebastian Festival has risen by more than 36% since 2010
Our commitment to the Industry translated into a rise of 59% in the number of professionals who attended the event
The figures corresponding to San Sebastian Festival's 64th edition prove that this is still a Festival popular with the public. In the nine days of the last edition, 175,267 spectators flocked to the films programmed by the Festival, a number very similar to last year (a rise of 0.2% compared to 2015), and which continues its upwards trend: more than 13% higher than the 155,060 spectators of 2010.
As regards professionals – press and film industry alike – the number of accredited guests continues to grow: 3,845 compared to the 3,360 of 2015 (+5,34%) and to the 2,820 of 2010 (+36,3%). Specifically, the pledge to turn San Sebastian into a must-attend event for industry members has translated into a rise of almost 60% in the presence of film industry professionals since the current management team took up their positions. Thanks to the Europe-Latin America Co-production Forum and Films in Progress, last year 1,569 professionals visited San Sebastian compared to the 1,495 of 2015 (+4.9%) and the 984 of 2010 (+59.5%).
In the box office takings section, the figure for 2016 stood at 861,626, a rise of 2.5% compared to the figures for 2015 (840,396) and of 24.50% compared to 2010 (691,930).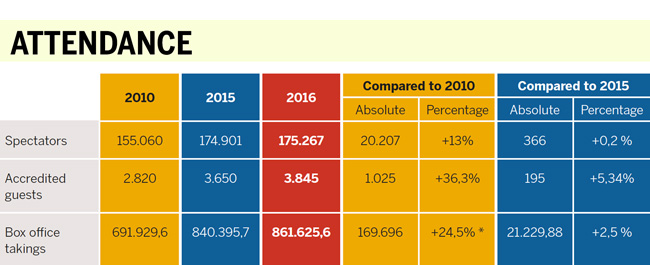 (*) In 2010 a general 18% rate of VAT was applied, and 8% at the box office, in place of the 21% of 2015 and 2016. Excluding the effect of the VAT, the increase would be 12.2%.
---
The figures, indicated in the report available in Basque, Spanish and English on the Festival website, also show a significant rise in visits to our website and in our social media followers. Similarly, the document contains the lists of films, underlining the presence of first films, the juries and the awards. The photo gallery acting as an epilogue of the 64th edition reflects the different activities and publics at the Festival, in addition to the myriad film stars and professionals who attended the event.

Download the report