Among all the participants will be chosen the image of its 62nd edition
Wednesday, January 29th, 2014
The San Sebastian Festival calls its third online competition for posters to provide the official image of its 62nd edition.
Following the success of the initiative in the previous editions, the Festival returns to bet on this formula to encourage creativity and participation and to foster greater reach of the event.

The competition is open to all designers who wish to present their proposals and the public will vote for their favourite posters. A jury will choose the winner from the finalists and prizes will be drawn among voters of the winning proposals.
Participants can submit posters for the 62nd edition in the following 6 categories: Official, New Directors, Horizontes Latinos, Zabaltegi, Pearls and Culinary Zinema. Participants are free to submit posters for as many sections as they wish. They can also submit as many posters as they wish for each section.
As for last years, a specific site within the official Festival website: www.sansebastianfestival.com/postercontest, will permit participation in and organisation of the competition. This site will also allow you to follow updates on the development of each stage.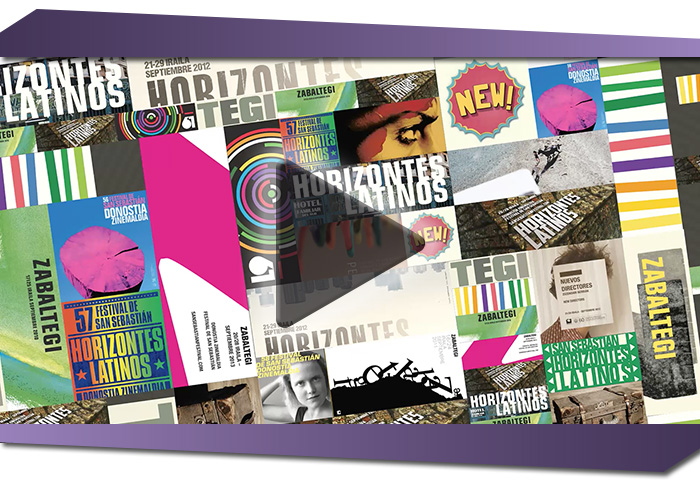 Submission and presentation of proposals: January 30 - March 6
Public vote: March 10 - 28
Announcement of the finalists: April 2
Public announcement of the winning posters: May 9



To select the winning posters, a pre-selection will be made of the 10 proposals to receive most public votes per section in www.sansebastianfestival.com/postercontest, plus up to another 10 posters for each section selected by the San Sebastian Festival itself, bringing the total to a maximum of 20 finalists on 2 April 2014.

The Festival will place particular importance on the originality of the proposals, their design, composition and visual impact.
From these finalists, a jury will choose the winning posters for each section on 4 April. The decision will be publicly announced at a press conference called by the San Sebastian Festival on 9 May. At this press conference, all of the prize-winning works will be presented to the media. That the same day, the announcement will be published on the Festival and specific competition sites.

For the authors of the winning posters:
The winner or winners of the competition will receive a prize of €3,000 net in the case of the Official poster and of €1,000 net in the case of the posters selected for each of the other sections.

For voting members of the public:
A draw will be held among all users whose votes coincide with the winning poster in each section. Four prizes will be awarded (1 per section). The prize in each case is a 10-session voucher for the Festival and a set of publications issued for the 62nd edition of the San Sebastian Festival.
RULES AND REGULATIONS
For more information, please consult the full rules and regulations on the website: www.sansebastianfestival.com/postercontest
Registration is required in order to be able to submit proposals and vote for posters.