The five filmmakers selected for Ikusmira Berriak share their experiences at the Tabakalera residencies
Thursday, August 25th, 2016
The residencies running for the second edition of Ikusmira Berriak, a programme providing support to audiovisual projects organised by San Sebastian, European Capital of Culture 2016, Tabakalera-International Centre for Contemporary culture and the San Sebastian Festival, with the collaboration of Donostia Kultura and the Filmoteca Vasca, began on August 15th. During the residencies, lasting for six weeks, filmmakers Leo Calice, Mikel Gurrea, Aitor and Amaia Merino and Kiro Russo will develop the four selected projects in Tabakalera's Creators' Space. To help them with the process, during the first four weeks masterclasses have been organised by Fernanda del Nido, founder of the independent production company Tic Tac Company, the filmmaker John Paul Sniadecki, whose films push the limits of the documentary genre, and Manuel Arranz, former director of the Spanish RTVE network's La2 channel and producer of television programmes. In addition, the residents will have carte blanche to programme a film forming part of their movie references at Tabakalera.

In the fifth week of their stay, coinciding with the start of the San Sebastian Festival, the participants will prepare a pitch - a detailed presentation of the audiovisual project to international producers and sales agents potentially interested in co-producing and distributing their work - to be made in the Festival's industry space, where 1,496 accredited guests gathered last year. The residents will have the opportunity to organise meetings with Industry Club attendees, participate in its activities as professionals and will be issued with a pass to attend all screenings at the event. Their stay will end, precisely, on September 25th, the day after the end of the Festival.

Over the six weeks the participants will be accompanied and advised by the same expert committee responsible for selecting their projects from among the 33 submitted: Paz Lázaro, head of programming for the Panorama section at the Berlin Film Festival; Sergio Oksman, Brazilian film director (Goodbye America, A Story for the Modlins, O Futebol) and head of the production company Dok Films, and Ada Solomon, film producer and founder of HiFilm Productions. "I think the programme is a real boon for any artist. It is a great opportunity to research and create peacefully, away from home and everyday obligations, in the extraordinary setting of San Sebastian and with the support of an incredible Festival", analysed Solomon, who found it difficult to choose between the different projects. "I was impressed by the quality of the proposals and thought it would be impossible to choose only four of them. To make the selection we considered them globally: the originality of the proposal, the quality of the project, the filmmaker's ability to transfer their idea to cinema and their talent and experience", explained the Romanian producer.

These are the first impressions after ten days' work at Tabakalera of Leo Calice, selected in the Lab category (Clermont-Ferrand Festival's experimental short film section); Mikel Gurrea, from the Kimuak short film selection; Aitor and Amaia Merino, from the Basque Autonomous Community Filmmakers category; and Kiro Russo, chosen from among participants in the International Film Students Meeting (EIECINE) running yearly at the San Sebastian Festival.
Leo Calice

"The time spent here will represent a major step forward in making our short film"
"I see Ikusmira Berriak as a biotope that provides the ecosystem for developing projects, something which, it goes without saying, is enormously important. It paves the way for a process of exploring aesthetic and technical questions, something which is related to the production of our film", explains Leo Calice, who is working on an animated documentary, Calipatria, co-directed with Gerhard Treml. "During the Tabakalera residency I will construct the film studio for shooting the short and will test production methods to decide exactly how we will produce it. Ikusmira Berriak will not only provide the time and space to do it, but also relevant masterclasses and the feedback of colleagues and experts. I'm really looking forward to the classes and to the exchange with the other residents, which I have no doubt will be very valuable. The time spent here will represent a major step forward in the making of our short film".
Mikel Gurrea

"Ikusmira Berriak assigns the creative process the importance it deserves"
"The experience is turning out to be intense and enormously interesting. We've had the opportunity to meet the residency organisers, who have welcomed and helped us from the beginning, and to exchange points of view with the participating filmmakers. It's still early days, but the feeling is great", he said. "I believe that Ikusmira Berriak has got it right by assigning the creative process the importance it deserves. The residency gives us the space, time and resources to develop and find the stories we want to tell, to generate material and experiment with the aim of leaving here with a more solid project. The fact that it all culminates with a pitching session at the Zinemaldia is really exciting and pushes you to work on making the film you're looking for", he notes. Personally speaking, he explains, "the residency is helping me to write, which is what I need. It's helping me to test a more dynamic and flowing creative process, something I'd tried at small scale and which I can develop more intensely here. It's helping me to take risks to find the best way to tell the story". That's why, he concludes, "I hope Ikusmira Berriak will continue to run for many years. It truly deserves it".
Aitor and Amaia Merino

"We plant the seed and Ikusmira Berriak gives us the soil and the water to make it grow"
Siblings Aitor and Amaia Merino consider that "the experience is hugely enriching". On the one hand, the tutorials help to give you a clear idea of the project objectives and, on the other, working with the other residents gives us the opportunity to share doubts and concerns. The Tabakalera space is perfect, we feel really at home working here", they remark. In their opinion, Ikusmira Berriak represents "a boost to get creators up and started". "Apart from everything you learn, we have a very high standard professional team to help us and give us advice at this stage, which you normally do with no help whatsoever. On top of this is the opportunity to enter the market offered by the Film Festival. If we add to this the creation and production workshops, the residency is an all-rounder. We plant the seed and Ikusmira Berriak gives us the soil and the water to ensure that the project grows strongly", they conclude. Moreover, Amaia lives in Ecuador and Aitor in Madrid, meaning that meeting to work "is always complicated". "Ikusmira Berriak has allowed us to come together and get down to work, and in our city to boot. For us the programme is a boon", they admitted.
Kiro Russo

"This residency is one of its kind"
"I'm really looking forward to it", explained the Bolivian moviemaker fresh from his participation in the Cineasti del Presente section at the Locarno Festival, where he garnered a special mention for Viejo Calavera. "I'm blown away by the Tabakalera installations, it's the most incredible cultural centre I've ever seen. I think it's a tremendous luxury to be able to work in this mind-blowing space; as if that wasn't enough, San Sebastian is a magical and beautiful city perfect for letting yourself be carried away by ideas, for getting down to writing and experimenting with projects". "We'll have so much backing not only thanks to the comfort of the space and the endless access to all sorts of filmed and printed material, but also thanks to the dialogue kicking in with the other residency participants and with the tutors backing the projects. I think this residency is one of its kind for its particular backing of films seeking to explore new forms of cinematic language; it is a hugely important initiative".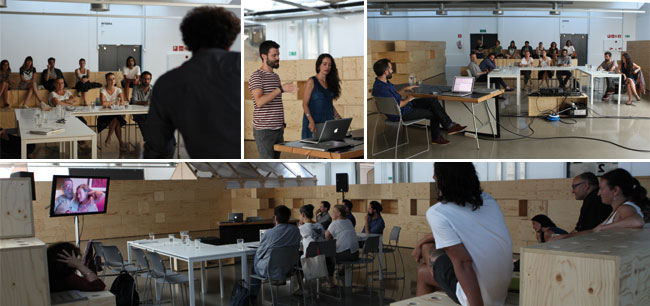 SELECTED PROJECTS
---



Kiro Russo

1. LOBA (full-length film)

Category: International Film Students Meeting

Synopsis

Two men force a door in two different times and places. One has to steal out of necessity. The other is escaping from his wife, who has transformed into a wild beast.

Filmmaker

Kiro Russo (La Paz, 1984)
Director, producer and scriptwriter. He studied direction at the University of Cinema in Buenos Aires. As a director and scriptwriter, he made the short films Enterprisse (2010), Juku (2012), and New Life (2015), premièring at the 68th Locarno Film Festival, received a special mention from the jury and won first prize and the Orona Award in the International Film Students Meeting at San Sebastian Film Festival. These works have a are very closely related to Viejo Calavera, his first feature film in post-production phase. His first feature film, Viejo Calavera, recently awarded at Locarno with a Special Mention in the Cineasti del Presente section and will compete in Horizontes Latinos at San Sebastian Film Festival.
---



Gerhard Treml





Leo Calice

2. CALIPATRIA (short film)

Category: Labo, the selection of experimental short films at the Clermont-Ferrand Festival

Synopsis

Calipatria is the name of a state prison situated in California´s desert. Santiago Cassilas is one the prisoners: 58 years, member of a gang, convicted to life sentence in solitary confinement. Santiago works one hour a day in prison´s garden, and that will be the place where he reveals his feelings, life history, secrets and dreams, beyond prison´s walls.

Filmmakers

Gerhard Treml (Vienna, 1963)
His practice explores narrative strategies to appropriate, investigate, and reconfigure spatial relations basic to our construction of reality. His work relies on drawing, scripting, filmmaking and installations. He recently directed the international art-based research program Eden's Edge in cooperation with the University of Applied Arts Vienna and launched the Office for Narrative Landscape Design (O.N.L.S.D). Together with Leo Calice, he directed their first series of short films Eden's Edge (2014) which have won multiple international awards including Clermont Ferrand's Grand Prix.

Leo Calice (Texing, 1980)
Leo Calice studied and worked in Switzerland, Spain, Portugal, and Austria. He later studied Landscape Design at the University of Applied Arts Vienna. 2012 he joined the art based research project Eden's Edge and was a founding member of the Office for Narrative Landscape Design (O.N.L.S.D) which produced a series of animated documentary short films Eden's Edge (2014). It was screened extensively and won numerous international awards including Clermont Ferrand's Grand Prix.
---



Amaia Merino, Aitor Merino

3. FANTASÍA (full-length film)

Category: Filmmakers from the Basque Autonomous Community (BAC)

Synopsis

Since they were very young, Amaia and Aitor lived away from their parents, Kontxi and Iñaki, now retired. Last summer they realised a dream: getting the four of them together to go on a cruise on a huge ship called FANTASÍA. On their return, they will face a bigger, terrifying boat: the reality of distance, old age and death that one day will separate them. The idyllic holiday reunion will be the contrast from which the harshness of reality acquires a true meaning.

Filmmakers

Amaia Merino (San Sebastian, 1970)
She lives and works in Ecuador, a country where she has specialised in editing and scriptwriting for non-fiction cinema. Over the last fifteen years, she has edited some of the best-known feature films in Ecuador: Blak Mama, Más allá del Mall, Resonancia, En Espera, El Pan Nuestro, 1809-1810 Mientras Llega el Día y Asier ETA biok (Asier and I), Irizar Basque Film Award in 2013, among others. Since 2006, she has given tutorials on editing and scriptwriting at the Technological Institute of Cinema and Performance in Quito.

Aitor Merino (San Sebastian, 1972)
He has developed his career primarily as a film, theatre and television actor, working on more than twenty films under directors Montxo Armendáriz, Pilar Miró, Vicente Aranda, Carlos Saura Medrano, Manuel Matji and Icíar Bollaín, among others. His first short film as a director, El Pan Nuestro, received awards at a number of national and international festivals and was nominated for the Goya Awards. Asier ETA biok (Asier and I), Irizar Basque Film Award in 2013, co-directed with his sister Amaia Merino, was his first feature film. He is currently combining his work as an actor with the feature-length documentary project Fantasía, co-directed again with Amaia Merino.
---



Mikel Gurrea

4. SURO (full-length film)

Category: KIMUAK

Synopsis

Ivan (33) inherits a farmstead in Girona, his last chance to make a living for himself. He and his partner Elena (30) move to the house to manage a former cork plantation. However, as an outsider, facing increasing tension with the local cork extractors and the Moroccan carriers he has to face a major moral dilemma.

Filmmaker

Mikel Gurrea (San Sebastian, 1985)
While studying audio-visual communication at the Universitat Pompeu Fabra, he worked for the advertising production firm Agosto, he wrote and directed several short films, including Primo (2008), Los gatos del tejado (2009) and Rojo en el agua (2010). In 2011 he was awarded a scholarship from Obra Social "la Caixa" to study a master's degree in film direction at the London Film School. During this period, he directed the documentary Txoria, the commercial Chessmates and developed the dramaturgy for the choreography Automatich Flesh by the Rambert Dance Company, which premiered in the Queen Elizabeth Hall in London. His graduation film, Foxes, was awarded, among others, the prize for best fiction in the Students category at the Montreal Festival des Filmes du Monde and was selected for Kimuak 2015 catalogue. His theatre fiction project, Soka, was chosen for the New Dramaturgies programme. He is currently developing a feature-length drama, Heldu (Hold), produced by Eva Sigurdardottir and selected by EAVE.