Yet another year we invite you to follow all events at the Festival on our Website, App and Social Media.
On our official Website, you'll find complete information about all of the films, with the updated programme and ticket information for all screenings. We also post updates of daily events with live broadcasts, photo galleries and the latest news.
Remember that on our TV channel you can watch live broadcasts of the press conferences and of the Opening, Closing and Donostia Award galas. You can also enjoy the other VOD contents: photocalls, red carpet, interviews with the film teams, guests' arrivals, rundowns of the day, trailers of all of the films in the different sections and special pieces of the year.
In addition, in 2016 the Festival television will broadcast 24h non-stop. Just connect your Smart tv to FesTV and enjoy the Festival.
Join us on the Social Media and share your Festival
We'll be hugely active on the social media, so don't forget to follow us and don't miss any of our exclusive contents and actions. You can find us on Twitter, Facebook, Instagram, YouTube and Periscope.
From Facebook and Twitter we'll send out news flashes and give you previews of new features, videos, photos, plus continuous information on the major events of the day. We'd love to share your conversations, mentions and comments, so don't forget to use our official hashtag #64SSIFF to make sure that we don't miss anything and can interact more easily.
And every day we'll select some of your fantastic photos shared on Instagram with the hashtag #64SSIFF for their publication in a special album on our Facebook page. We'll also regram our favourite snapshots from #64SSIFF taken by you under the slogan "as seen by (author)".
Once again we'll use Twitter Mirror so that our most famous visitors can send you fun greetings. Periscope we'll also launch with Periscope a live stream covering some of Zinemaldia's most important moments and off events from a new angle.
And all sorts of other surprises we'll announce in the coming days that we hope you'll like. So don't forget, follow us and share using #64SSIFF

Don't miss a single detail, download the official APP free of charge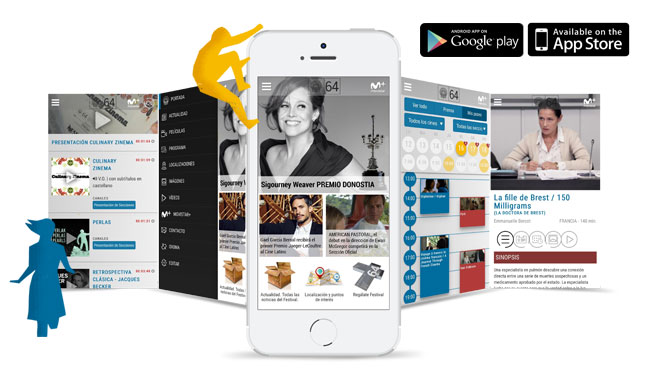 You can also follow all of the Festival news on your smartphone, decide what films you want to follow and consult interesting information about the city thanks to our official App.
In the App you'll find minute-by-minute Festival news and updates, with videos of the day (photocalls, press conferences, galas, etc.), photo galleries of the latest events and film team appearances, trailers and excerpts, plus the programme and complete, detailed information on all of the films at this year's Festival (synopsis, biographies, artistic and technical info, images, awards, cinemas and screening times).
We have renewed our official APP this year and it offers, amongst other improvements, a programme planner, which will help you to better organize your daily schedule for the films you want to see. You just have to bookmark your favourite films and they will appear on your timeline. You will also have the option of sharing it on social media so that it's easier for you to share your opinions.
Thanks to the App you will be able to plan the things you want to see, mark your programme preferences as "favourites", give opinions on the films and share contents on the social media using the hashtag #64SSIFF.
The App is available in three languages (Basque, Spanish and English). It can be downloaded from the App Store, Windows Phone and Google Play.