Wednesday, September 21st, 2016
La educación del Rey / Rey's education
Country(ies) of production:
Argentina
Escaping from his criminal baptism, Reynaldo Galíndez, alias "Rey", lands in the patio of the house inhabited by Carlos Vargas, a retired security guard. Vargas proposes a deal: the young boy will repair the damage caused to his home when falling in return for not being handed over to the police. The lessons given to the teenager by the old guard will give rise to a relationship not unlike the old legends of educating a king (for the "Rey" of his name, meaning "king" in Spanish). The agreement will start to fall apart when the loose ends of the robbery Reynaldo had participated in start wrapping themselves round them.

Films in Progress Industry Award: The companies Daniel Goldstein, Deluxe Spain, Dolby Iberia, Laserfilm Cine y Video, Nephilim producciones, No Problem Sonido and Wanda Visión will assume the post-production of the film until obtaining a DCP subtitled in English and its distribution in Spain.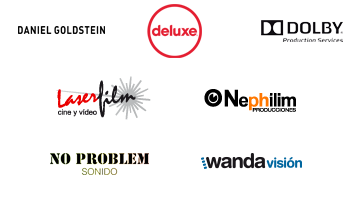 PREMIO CACI/IBERMEDIA TV CINE EN CONSTRUCCIÓN
CACI/Ibermedia TV Films in Progress Award for the winning film of the Films in Progress Industry Award. Presented by the Conference of Ibero-American Cinematographic Authorities (CACI) by means of the Ibermedia Programme, the Award consists of including the film in the Grant Programme for Television Broadcast: authorisation for non-exclusive broadcast on Ibermedia TV and Ibermedia Digital for the value of USD25,000 (full-length feature film) or USD15,000 (documentary).

Further information:
---
Films in Progress is the programme of aid to Latin American cinema which, called twice yearly, takes place at the San Sebastian Festival and at Cinélatino, Rencontres de Toulouse.

Films in Progress enjoys the backing of the following companies and institutions: Association Rencontres Cinémas d'Amérique Latine de Toulouse (ARCALT), Conferencia de Autoridades Cinematográficas Iberoamericanas (CACI), Daniel Goldstein, Deluxe Spain, Dolby Iberia, Laserfilm Cine y Video, Nephilim producciones, No problem Sonido, Programa Ibermedia, Wanda Visión, and the collaboration of Caisse Centrale d'Activités Sociales du personnel des industries électriques et gazières (CCAS), Centre National du Cinéma et de l'Image Animée (CNC), CINÉ + Commune Image, Confédération Internationale des Cinémas d'Art et Essai (CICAE), Conseil Général de la Haute Garonne, Eaux Vives, École Supérieure d'Audiovisuel (ESAV), EP2C Postproduction training program, Europa Distribution, Firefly, La Cinéfondation, La Trame, Mactari, Mairie de Toulouse, Producers Network, Région Midi-Pyrénées, Signis and Titra TVS.
---

With the support of