The latest film from Michael Winterbottom to close the seventh edition of Culinary Zinema
Seven productions from Argentina, Denmark, Estonia, Germany, Israel, Italy, Japan, Spain, UK and USA, five of them first films, make up the San Sebastian Festival section organised jointly with the Basque Culinary Center and in collaboration with the Berlinale
Friday, September 1st, 2017
Culinary Zinema, the San Sebastian Festival section combining cinema and gastronomy, will consist in its seventh edition of seven films telling stories taking their inspiration from gastronomies in Asia and Europe. The closing film is brought to us by Michael Winterbottom, applauded with the Silver Bear (In This World) and the Silver Shell for Best Director (Genova), who will present, alongside Steve Coogan and Rob Brydon, The Trip to Spain.

The opening film, Michelin Stars - Tales from the Kitchen, looks at the highs and lows of the Michelin Guide in this golden age of gastronomy. It is directed by Rasmus Dinesen, author of the films Det forbudte landshold (The Forbidden Team), about the first Tibetan national football team; Verdens bedste kok (World's Finest Chef), about the victory of Danish chef Rasmus Kofoed at the Bocuse d'Or championship; and the documentary TV series Star Chefs about Michelin-starred restaurants.

Laura Collado collaborated with Justin Webster (Muerte en León and El fin de ETA / The Demise of ETA, Zinemira 2016) on the Al Jazeera series People & Power. Jim Loomis has worked as a cinematographer and editor for productions by BBC, ARTE and CNN. Together they helm the feature film Constructing Albert, about the "most underrated chef in the world", Albert Adrià, brother of the man who created El Bulli.

In her first feature film, E il cibo va / Food on the Go, Mercedes Córdova, director of the prize-winning short Acá nunca está nublado, looks at the tradition of Italian food in the diaspora a hundred years after millions of Italians immigrated to Argentina.

Another first work is The Cakemaker, by Ofir Raul Graizer, whose short film La discotheque screened in the Directors' Fortnight at Cannes in 2015. The film, a co-production between Germany and Israel which competed at Karlovy Vary, tells the tale of a young German pastry chef who heads for Jerusalem in search of answers when his lover dies.

Koki Shigeno, a veteran director of TV documentaries, has now made his first feature-length film, Ramen Heads, selected for Hot Docs (Canadian International Documentary Film Festival). The film follows Osamu Tomita, today's king of the ramen in Japan, on a 15-month tour of the lives of the masters of this dish and its legions of followers.

Masakazu Fukatsu debuts in feature films with Papa no obento wa sekaiichi / Dad's Lunch Box, the true story of a father and his daughter -which went viral on social media- brought together by the bento box in which people carry their packed lunches in Japan.

Michael Winterbottom, to whom the Festival dedicated a retrospective in 2003, formerly competed in the Official Selection with Nine Songs (2004), winner of the Best Cinematography Award, Tristam Shandy: A Cock and Bull Story (2005) and Genova (2008), recognised with the Silver Shell for Best Director. The Trip to Spain, selected for Tribeca, is his first incursion to Culinary Zinema. After The Trip and The Trip to Italy, Winterbottom renews his collaboration with actors Steve Coogan (Philomena) and Rob Brydon (Would I Lie to You?) to analyse six meals in six places on a road trip through Spain, from the Atlantic to the Mediterranean coast.

To complete the experience, the screenings will be followed by meals linked to the content of the films. Elena Arzak, from 3*Michelin Arzak restaurant in San Sebastián; Latin America's best female chef Kamilla Seidler, from Gustu in La Paz; and Alain Weissgerber, from Taubenkobel restaurant located in the Austrian town of Schützen am Gebirge, will create the opening dinner. Rubén Trincado, from Mirador de Ulía restaurant in San Sebastián, Daniel López, from Kokotxa restaurant in San Sebastián, and Kepa Txapartegi, from Alameda restaurant in Hondarribia, will take their inspiration from the film Constructing Albert. The Japanese chef Mutsuo Kowaki will prepare a delicious packed lunch in tribute to the storyline of Papa no obento wa sekaiichi / Dad's Lunch Box. Osamu Tomita, the most prestigious of the Japanese ramen chefs, will prepare the meal to follow Ramen Heads. Andrea Tumbarello, chef at Don Giovanni, Madrid's Italian eatery par excellence, will evoke the food in exile of E il cibo va. Tomás Kalika, who recovers the inheritance of Jewish cookery recipes around the world in his Buenos Aires restaurant Mishiguene, and the chef at Ni Neu, Mikel Gallo, will take their inspiration from The Cakemaker. With the exception of this dinner, to take place at Ni Neu, the others will be hosted by the Basque Culinary Center. Lastly, the Mexican chef Enrique Fleischmann, owner of Txoko in Getaria and of the Bailara in Bidania, will prepare the closing dinner with Jorge Maestro, chef at nöla (Siguënza). Txoko and nöla are two of the restaurants featured in The Trip to Spain.
The combined tickets for the screenings and their dinners will go on sale on the Festival and Kutxabank websites on September 4 at 9 a.m. onwards at a price of 70 euros. Tickets for the screenings alone can be purchased from September 17 at a price of 7.20 euros.

The Culinary Zinema section is sponsored by Nespresso.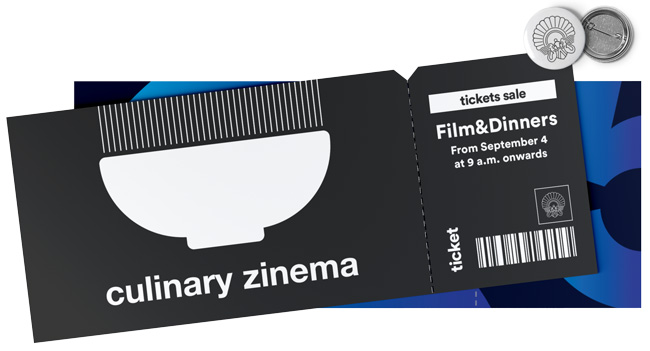 Michelin Stars - Tales from the Kitchen
Country(ies) of production:
Denmark
At a moment in time when humanity is obsessed with food –photographing every dish, worshipping cooks and flaunting trophy meals on social media–, this documentary goes under the surface and offers an in-depth, honest and relevant view into the world and day-to-day of Michelin chefs and restaurants. Telling tales from a grand menu of culinary temples as well as digging into the greatness and flaws of the Michelin Guide in this golden age of gastronomy.
The Cakemaker
Country(ies) of production:
Germany - Israel
Cast: Tim Kalkhof, Sarah Adler, Zohar Strauss, Sandra Sade, Roy Miller
Thomas, a young German pastry maker, is having an affair with Oren, a married Israeli man who makes frequent business trips to Berlin. When Oren dies in a car accident in Israel, Thomas heads for Jerusalem in search of answers to his death. Using a false name, Thomas worms himself into the life of Anat, his lover's recently widowed wife, to the point of becoming assistant chef in her bar.

Ramen Heads
Country(ies) of production:
Japan
Osamu Tomita, Japan's reigning king of ramen, takes us deep into his world, revealing every single step of his obsessive approach to creating the perfect soup and noodles, and his relentless search for the highest-quality ingredients. This is a documentary record of 15 months in the lives of Japan's top ramen masters and their legions of devoted fans.

E il cibo va / Food on the Go
Country(ies) of production:
Argentina - Italy - USA
Gastronomic culture is the result of man's travels in search of new things to eat. For proof, we only have to look at how Italian food journeyed to America with the mass migrations. Almost a hundred years later, retracing the steps of food and its voyage to New York and Buenos Aires, we now find the foundation of a new tradition of Italian food in exile. What relationship does it bear to its country of origin? Can we talk about Italian food outside of Italy?

Papa no obento wa sekaiichi / Dad's Lunch Box
Country(ies) of production:
Japan
Cast: Toshimi Watanabe, Rena Takeda
This is a heart-warming true story of the father and daughter connected by bento, the Japanese packed lunch in a box. Throughout her three years at high school, the young girl would eat the bento made for her every day by her father. On her last day she found that her lunchbox contained a picture of the very first bento that her father had made for her with a handwritten message from him. The girl tweeted the occurrence, making 350,000 people cry on Twitter. The message was retweeted more than 80,000 times and got 260,000 'likes'.
Constructing Albert
Laura Collado
, Jim Loomis
Country(ies) of production:
Spain - Estonia
At the dawn of the 21st century, El Bulli restaurant revolutionized the world of gastronomy, making chef Ferran Adrià the king of haute cuisine. Behind such a success, was an unrecognized creative genius: Ferran's younger brother, Albert. In 2013, Albert Adrià was considered the world's most underrated chef. Enigma, the crown of his gastronomic empire, opens with a clear goal: to become one of the best restaurants in the world. This is Albert's attempt to escape the shadow of the legendary El Bulli and enter the Pantheon of great chefs.

The Trip to Spain
Country(ies) of production:
UK
Cast: Steve Coogan, Rob Brydon
Michael Winterbottom is on the road for the third time with Steve Coogan and Rob Brydon, after their success with The Trip and The Trip to Italy. Six meals in six different places on a road trip through Spain from the North Atlantic to the Mediterranean coast - visiting Cantabria, the Basque Country, Aragon, Rioja, Castile La Mancha and ending in Andalucia. Steve, now turned 50, is still chasing love - he wants to get back together with his ex-girlfriend Mischa, but she is with another man. Rob's acting career is going from strength to strength, his family life is fulfilling - he has had another child since Steve last saw him. Steve has just starred as a chef in a US TV series and is asked to do a set of restaurant reviews in Spain to publicise the show. As usual Rob will write the newspaper articles, this time using Don Quixote as inspiration. Meanwhile Steve is hoping to write a more ambitious book based on this trip and his earlier experiences in Spain. He imagines himself in the tradition of writers such as Orwell, Hemingway, and Laurie Lee. After all, Steve is now an Oscar nominated writer...

Programme
Day - Film

Restaurant

Chefs

---

Opening. Saturday 23
MICHELIN STARS - TALES FROM THE KITCHEN

Basque Culinary Center

Elena Arzak, Kamilla Seidler, Alain Weissgerber

---

Sunday 24
THE CAKEMAKER

Ni Neu

Tomás Kalika & Mikel Gallo

---

Monday 25

RAMEN HEADS

Basque Culinary Center

Osamu Tomita

---

Tuesday 26

IL CIVO VA / FOOD ON THE GO

Basque Culinary Center

Andrea Tumbarello

---

Wednesday 27

PAPA NO OBENTO WA SEKAIICHI / DAD´S LUNCH BOX

Basque Culinary Center

Mutsuo Kowaki

---

Thursday 28

CONSTRUCTING ALBERT

Basque Culinary Center

Rubén Trincado, Daniel López, Kepa Txapartegi

---

Closing. Friday 29

THE TRIP TO SPAIN

Basque Culinary Center

Enrique Fleischmann & Jorge Maestro

---
The chefs

ALAIN WEISSGERBER
Having trained and worked with the culinary elite (Elena Arzak in San Sebastián, Joël Robuchon in Paris, Tantris in Munich and Wolfgang Puck in Los Angeles), the chef of French origin Alain Weissgerber, opened his first restaurant, Blaue Gans, in Weiden, Austria, going on to garner his first Michelin star in 2005. After the Blaue Gans was destroyed by fire in 2010, Alain joined the Taubenkobel, one of Austria's best restaurants. Four years later Alain took up the reins of the business. During these years at the Taubenkobel, Weissgerber has developed and refined his recognisable culinary style, with a cuisine inspired in regional dishes, placing special emphasis on local varieties. His efforts have earned him two Michelin stars and a place on the World's 100 Best in 2014.


ANDREA TUMBARELLO
Born in Sicily, gastronomy has always played an important part in Andrea Tumbarello's life. One evening in 2005, surprised at the poor quality of the pasta served while dining at the Don Giovanni restaurant in Madrid, he asked to speak to the owner, who offered him the option of the lease. A month later, Tumbarello was already running the restaurant, before finally going on to purchase the trattoria. Today, the Don Giovanni is a reference of Italian cuisine in Madrid, an unpretentious eatery serving dishes that radiate the authenticity of a gastronomy which, though simple, is exquisitely prepared. Tumbarello's restaurant, winner of multiple awards, including two Soles from the Repsol Guide, was acknowledged as Best Italian Restaurant in Madrid in 2012.


DANIEL LÓPEZ
Daniel López is another of the notable chefs who learned his trade under Luis Irizar. At the young age of 27, Daniel López opened the doors of the Restaurante Kokotxa in San Sebastián's Old Town. Barely six years later, the restaurant would receive its first Michelin star, which it maintains today, serving sincere cuisine with local roots.


ELENA ARZAK
With a long family tradition in gastronomy dating back to her great-grandparents, Elena Arzak always knew she would become a cook. Having studied at the Schweizerische Hotelfachschule Luzern hotel and catering school in Switzerland, she worked at La Gavroche (London), Vivarois (Paris), Louis XV (Montecarlo), Antica Hosteria di Ponte Cassineta (Lugano), Pierre Gagnaire (Paris) and El Bulli (Rosas), among other establishments all over Europe. After her wanderings she started working in the family restaurant, the mega-famous Michelin three-starred Arzak. Today she runs the restaurant alongside her father.


ENRIQUE FLEISCHMANN
After years of training under reputed chefs including Iñaki Agirre, Karlos Arguiñano, Juan Mari Arzak and Paul Bocuse, and having worked as sous-chef for seven years at Pedro Subijana's Akelarre Restaurant, Enrique Fleischmann set out on a new professional endeavour as head of the Txoko Getaria Restaurant, a family restaurant serving classic dishes with a modern touch while respecting the product, flavour and tradition. His second culinary proposal is the Bailara Restaurant at the Iriarte Jauregia Hotel, a commitment to innovative, state-of-the-art and flavoursome proposals. The two projects earned him a nomination for the Best New Chef 2014 Award at Madrid Fusión and won him Best Restaurant of 2016 at the Más Gastronomía Jóvenes Valores Awards.


JORGE MAESTRO
Jorge Maestro started working in kitchens at a very young age. After completing his cookery studies he set out to broaden his skills at different restaurants in Catalonia and the Basque Country. During that time he worked with the big chefs, earning sufficient experience and knowledge to to set out along his own path, resulting in the nöla, in Siguenza. Here the lands of Castile are enormously present on a menu always featuring the region's ubiquitous game dishes or locally-sourced mushrooms and truffles.


KAMILLA SEIDLER
Kamilla Seidler, chef of Danish origin, was named the Best Female Chef in Latin America by the 50 Best website. Seidler is the soul of Gustu Restaurant, in La Paz, Bolivia; the restaurant also takes the number 14 position in the list of Best Restaurants in Latin America. At Gustu, Seidler explores and cooks 100% Bolivian food. The combination of her talent as a chef and her social commitment has gained her the reputation of being one of the great chefs of the region.


KEPA TXAPARTEGI
The Txapartegi brothers, Mikel, Gorka and Kepa run the Restaurante Alameda in Hondarribia. Kepa, with his brother Gorka, is in charge of the kitchen. A family-run business, born in 1942, which has now seen the passage of three generations and produces traditional cuisine with a modern touch which displays great respect for the ingredients used and has earned them their first Michelin star.


MIKEL GALLO
Mikel Gallo has developed a large part of his career in two magnificent buildings, the Guggenheim Museum Bilbao and the Kursaal Congress Centre. After nine years in the kitchens of the Kursaal, his career took a turn when, with Bixente Arrieta (IXO Group), he set about introducing a new restaurant concept: the Ni Neu at the Kursaal Congress Centre, serving innovative gastronomic dishes and bringing haute cuisine to the general public.


MUTSUO KOWAKI
Born in southern Japan, he began his career at the age of 20 at the Heiseischool, before going on to perfect his skills for 10 years at the Tokyo restaurants Aoyagi and Ryugin (both currently holders of a Michelin star). After working in Indonesia he headed for the Matsu restaurant in Barcelona, later developing his experience in the same city at restaurants such as the Espai Kru, the Fonda Sala and the Koy Shunka before tackling his own project as a private chef with more than 20 years of experience and as a consultant on traditional Japanese food.


OSAMU TOMITA
Four-time winner of the Best Ramen Award in Japan with his famous Tsukemen ramen, owner of ten restaurants where people start queuing at six o'clock in the morning and author of a book on the dish, Osamu Tomita is unquestionably king of the ramen.


RUBÉN TRINCADO
Rubén has travelled from the Kokotxa in the Old Town with Muguruza, to the Bodegón Alejandro with Martín Berasategui, passing through the Abarka in Hondarribia, until his training with Didier Garbage in Les Landes, La Perouse in Paris and Labota in Geneva. But without a doubt those responsible for his love of cooking are his grandmother Faustina Zaldua and his father Mitxel, together with Mari Carmen Trincado, for years the alma mater of the Mirador de Ulía, meaning that Rubén represents the third generation at the head of the same restaurant. In 2006 he won the Martín Berasategui-Alcorta mini-cuisine Award, going on to land his first Michelin star in 2010.


TOMÁS KALIKA
Trained in Jerusalem, Israel, and now living in Buenos Aires, Tomás Kalika recovers the inheritance of Jewish recipes around the world in his restaurant, Mishiguene (Buenos Aires), opened in 2014. The Mishiguene serves avant-garde Jewish cuisine or, in his own words, immigrant cooking. Mishiguene, translated from Yiddish, is fondly used when referring to a person who is delightfully or charmingly crazy.