Deep space. Beyond our solar system. Monte and his daughter Willow live together on board a spacecraft, in complete isolation. A solitary man, who uses his strict self-discipline as protection against desire (his own and that of others), Monte fathered the girl against his will. His sperm was used to inseminate Boyse, the young woman who gave birth to the girl. They were members of a crew of prisoners: space convicts, death row inmates. Guinea pigs sent on a mission to the black hole closest to Earth. Now only Monte and Willow remain. And Monte is no longer the same. Through his daughter, for the first time, he experiences the birth of an all-powerful love. Willow grows, first of all into a young girl and then into a young woman.

BIOGRAPHY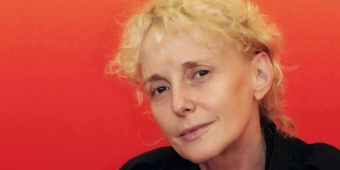 Claire Denis wrote and directed, in 1988, her first feature film, Chocolat, presented at the Cannes Festival. In 1996 she won the Golden Leopard in Locarno for Nenette et Boni, followed among others by Beau Travail (1999), Trouble Every Day (2001) and 35 rhums (2009). She competed in Venice with L'intrus (The Intruder, 2004) and White Material (2010) and in 2013 she returned to Cannes with Les salauds (Bastards), presented in Un Certain Regard. Un beau soleil interieur (Let the Sunshine In) opened the Quinzaine des Réalisateurs at the same festival in 2017.

CAST & CREW
Director
Screenplay
Claire Denis, Jean-Pol Fargeau, Geoff Cox
Production
Sales
Distribution
Photography
Yorick Le Saux
Edition
Guy Lecorne
Music
Stuart Staples
Cast
Robert Pattinson, Juliette Binoche, André Benjamin, Mia Goth
Format
DCP FOLLOWING DCI
Running Time
110 m.
Country
France - Germany - UK - Poland - USA