You are in:
Home
> 2015. 63rd Edition > Sections and Films
Snacks, bocados de una revolución
Culinary Zinema: Film and gastronomy
- Not in competition
A documentary portraying the origin, evolution, current status and future of Spanish gastronomy, conceived as a movement that established creative and conceptual freedom as the ground rule of the game all over the globe.

BIOGRAPHY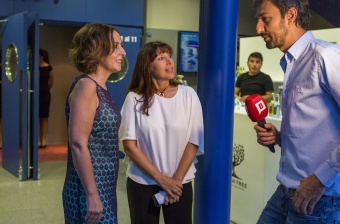 Verónica Escuer is an economist and creator and director of the Film & Cook Festival. In 2011 she directed a documentary on the groups Sidonie and La habitación roja. Cristina Jolonch has been a journalist with La Vanguardia since 1998, where she writes about gastronomy. She holds the Premio Nacional de Gastronomía 2008 and the Premi Nacional de Gastronomia de Catalunya 2010. She is also author of the book Guía secreta. ¿Dónde comen los grandes cocineros?

CAST & CREW
Director
Verónica Escuer
, Cristina Jolonch
Screenplay
Verónica Escuer, Cristina Jolonch
Production
Implementia Films
Verónica Escuer
Photography
Marc González
Edition
Montse Povea, Arturo Bastón
Music
Muñeco
Format
DCP FOLLOWING DCI
Sales
Running Time
Country
Spain