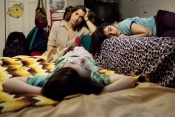 Pepa San Martín
(Chile - Argentina)
---
Horizontes Award Jury
The chair of the Horizontes Latinos jury, the Spanish actress Inma Cuesta, will bestow the Horizontes Award jointly with the Argentinian filmmaker Andrés di Tella and the Sundance Festival programmer, Shari Frilot.
---
The San Sebastián International Film Festival grants the Horizontes Award, aimed at increasing knowledge of feature films produced totally or partially in Latin America, directed by filmmakers of Latin origin, set around or dealing with Latin communities in the rest of the world.
Eligible for this award are all of the feature films selected to form part of Horizontes Latinos, which have neither been previously presented at other Spanish Festivals nor commercially released in Spain.
This award carries a cash prize of Euros 35,000.