During the labour reforms of 2016, in a small French town, the Radial company closes its doors after a bitter strike. Jeansé, Juliette, Bruno, Christine and Pierre meet to 'celebrate' their insulting redundancy pay-off. On the way home, Bruno has a violent scuffle at a police roadblock. Non is an anthology film about the contagious and furious protest by a group of workers. People absorbed by madness in the struggle to keep the little dignity they have left.

BIOGRAPHY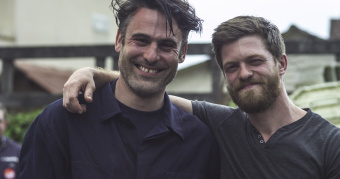 Eñaut Castagnet has directed the documentaries Berria 10 urte and When I Was a Child, as well as advertising commercials and teasers and the series Art in House. Ximun Fuchs is one of the founders of the theatre company Le Petit Théâtre de Pain, where he forged his career as a theatre writer, director and actor, and with which he has harvested awards including the Donostia de Teatro for the plays Juglarea, puta eta eroa, Errautsak and Francoren bilobari gutuna. Both make their fiction directorial debut with Non.

CAST & CREW
Director
Screenplay
Ximun Fuchs
Production
Photography
Pierre Stetin
Edition
Jeanne Oberson, Eñaut Castagnet
Music
Aitz Amilibia, Pascal Tenza, Jean Dona, Ximun Fuchs
Cast
Ximun Fuchs, Hélène Hervé, Fafiole Palassio, Manex Fuchs, Tof Sanchez, Cathy Coffignal, Guillaume Méziat, Eric Destout, Jérôme Petitjean, Mariya Aneva
Format
DCP FOLLOWING DCI
Sales
Web
Running Time
100 m.