Near a coastal village of Thailand, by the sea where thousands of Rohingya refugees have drowned, a local fisherman finds an injured man lying unconscious in the forest. He rescues the stranger, who doesn't speak a word, offers him his friendship and names him Thongchai. But when the fisherman suddenly disappears at sea, Thongchai slowly begins to take over his friend's life - his house, his job and his ex-wife...

BIOGRAPHY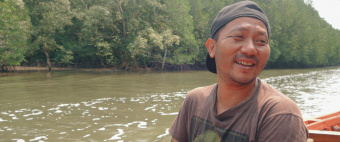 Phuttiphong Aroonpheng studied Fine Arts at Bangkok's Silpakorn University and Film Directing at New York's Digital Film Academy. He has directed numerous experimental short and medium-length films, including We All Know Each Other (2007), Our Monument (2008) and Ferris Wheel (2015), which competed at the Clermont-Ferrand Festival. He also works as a director of photography in Thailand, with titles such as Vanishing Point (2015) or Maha samut lae susaan (The Island Funeral, 2016). Kraben Rahu, his first feature film, won the best Film Award in the Orizzonti section of the last Venice Festival.

CAST & CREW
Director
Screenplay
Phuttiphong Aroonpheng
Production
Les Films de l'Etranger
Philippe Avril
Sales
Photography
Nawarophaat Rungphiboonsophit
Edition
Lee Chatametikool, Harin Paesongthai
Music
Christine Ott, Mathieu Gabry
Cast
Wanlop Rungkamjad, Aphisit Hama, Rasmee Wayrana
Format
DCP FOLLOWING DCI
Running Time
105 m.
Country
Thailand - France