The filmmaker Claire Denis will chair the Official Jury, on which she will serve alongside the Chinese actress Fan Bingbing, the Colombian producer, moviemaker and writer Cristina Gallego, the French photographer Brigitte Lacombe, the Hungarian producer Robert Lantos, the Spanish actress Vicky Luengo and the German director Christian Petzold.
Moviemakers including Maite Alberdi, J.A. Bayona, Robin Campillo, Isabel Coixet, Víctor Erice, Michel Franco, Matteo Garrone, Craig Gillespie, Jonathan Glazer, Kitty Green, Todd Haynes, Tran Anh Hung, Ladj Ly, James Marsh, Cristi Puiu, Valeria Sarmiento and Justine Triet will present their films to the audience and the media.
Filmmakers and actors from all over the world have confirmed their presence in San Sebastian for the Festival's 71st edition. Juliette Binoche, Gabriel Byrne, François Cluzet, Emmanuelle Devos, Griffin Dunne, Aidan Gillen, Mads Mikkelsen, James Norton and Dominic West will accompany their films and appear in the Festival galas. In addition to Víctor Erice, who will receive his Donostia Award on the 29th, and Javier Bardem, who will do the same at the next edition in view of the limits imposed under the strike called by the US Actors Union (SAG-AFTRA), the Festival will also recognise the career of the Japanese master of animation, Hayao Miyazaki, director of the opening film: Kimitachi wa do ikiru ka / The Boy and the Heron. Miyazaki will receive the Donostia Award virtually during the opening gala.

Further, important contemporary filmmakers will travel to San Sebastian to accompany their latest films, such as Maite Alberdi (La memoria infinita / The Eternal Memory, Perlak), J.A. Bayona (La sociedad de la nieve / Society of the Snow, Perlak), Robin Campillo (L'île rouge / Red Island, Official Selection), Isabel Coixet (Un amor, Official Selection), Michel Franco (Memory, Perlak), Matteo Garrone (Io Capitano / I'm Captain, Perlak), Craig Gillespie (Dumb Money, Perlak), Jonathan Glazer (The Zone of Interest, Perlak), Kitty Green (The Royal Hotel, Official Selection), Todd Haynes (May December, Perlak), Tran Anh Hung (La passion de Dodin Bouffant / The Pot-au-feu, Culinary Zinema), Tatiana Huezo (El eco / The Echo, Horizontes Latinos), Ladj Ly (Bâtiment 5, Perlak), James Marsh (Dance First, Official Selection), Cristi Puiu (MMXX, Official Selection), Valeria Sarmiento (El realismo socialista / Socialist Realism, Klasikoak), Justine Triet (Anatomie d'un chute / Anatomy of a Fall, Perlak) and Fernando Trueba & Javier Mariscal (They Shot the Piano Player, Official Selection).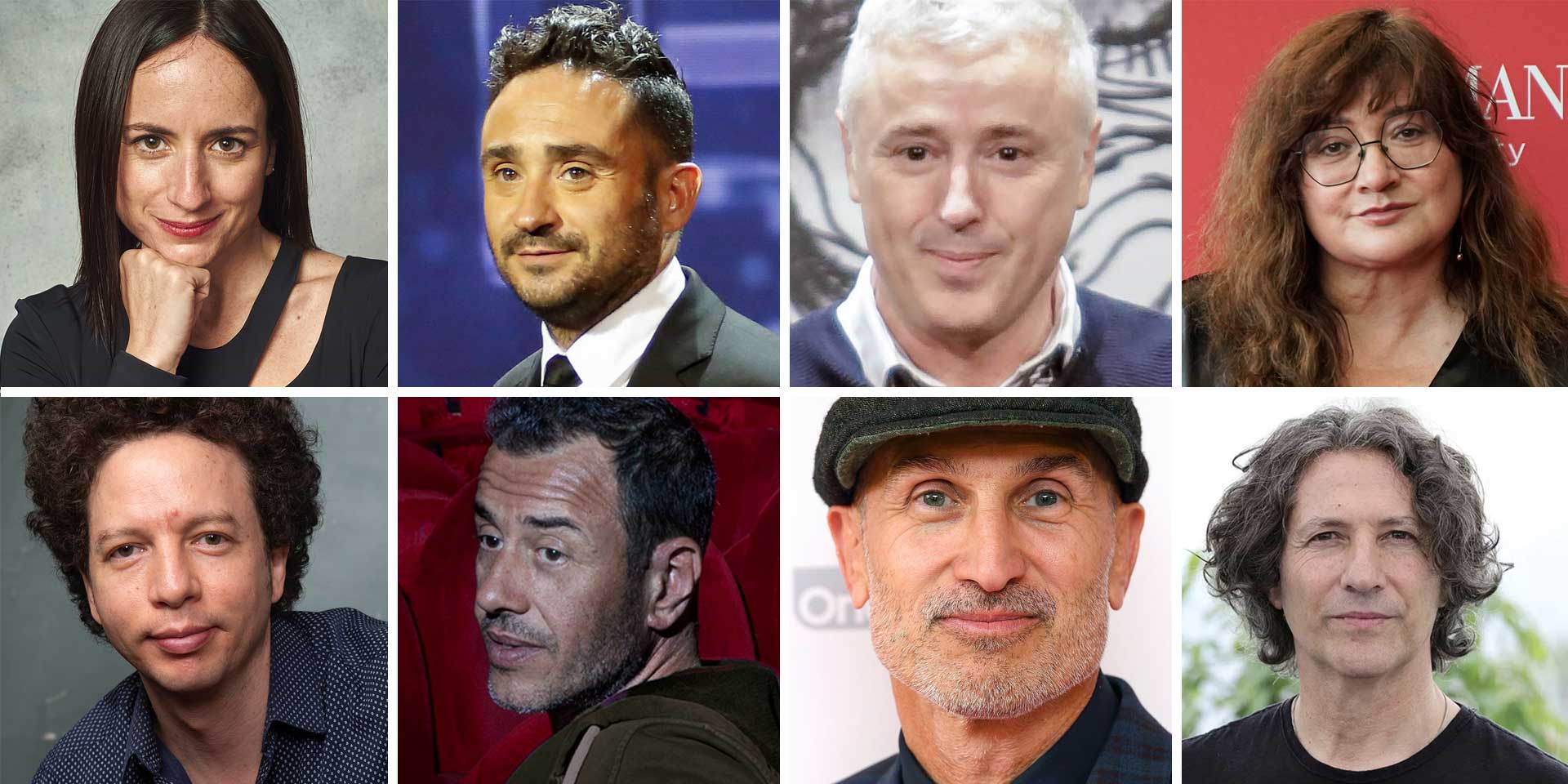 In the Official Selection, actors Griffin Dunne, Miles Heizer and James Norton will accompany the director Noah Pritzker to present Ex­-Husbands, a contender for the Golden Shell, as will the filmmaker Raven Jackson and the producer Adele Romanski, who will show All Dirt Roads Taste of Salt. Joaquim Lafosse, who participates with Un silence / A Silence, will come with Daniel Auteuil and Emmanuelle Devos; François Cluzet, and Vincent Lacoste will travel to San Sebastian with the director of Un métier serieux / A Real Job, Thomas Lilti; Xavier Legrand will defend Le successeur / The Successor with its lead actors, Marc-André Grondin and Yves Jacques; and Robin Campillo, the director of L'île rouge / Red Island will do the same with Quim Gutierrez and Nadia Tereszkiewicz (who will be in San Sebastian twofold due to also starring in Rosalie, programmed in Perlak). The Romanian filmmaker Cristi Puiu will introduce MMXX with the actors Dorian Boguta (also its producer), Florin Tibre and Laurentiu Bondarenco and the actresses Adelaida Perjoiu and Otilia Panainte. Filmmaker Kitty Green (The Royal Hotel), Christos Nikou (Fingernails) and Isabella Eklöf (Kalak) will also travel to the Festival. The closing film, Dance First, will have extensive representation: in addition to Marsh Byrne and Gillen, other members of the cast such as Fionn O'Shea will travel to the event.
A large number of the filmmakers in Perlak will accompany their films in San Sebastian: Jonathan Glazer (The Zone of Interest); Todd Haynes (May December); Christian Petzold, official jury member and director of Roter Himmel / Afire; Matteo Garrone with the stars of Io Capitano / I'm Captain, Seydou Sarr and Moustapha Fall; Michel Franco (Memory); Nicolaj Arcel and Mads Mikkelsen (The Bastard / The Promised Land); the Australian moviemakers Warwick Thornton (The New Boy) and Craig Gillespie (Dumb Money); Ladj Ly (Bâtiment 5) with actors Steve Tientcheu, Anta Diaw, Aristote Luyindula and Alexis Manentis; as well as the filmmakers Celine Song (Past Lives) and Stephanie di Giusto (Rosalie).
As usual, Latin American films will be extensively represented in San Sebastian. In the Official Selection, by María Alché and Benjamín Naishtat and the actors Marcelo Subiotto, Leonardo Sbaraglia and Mara Bestelli (Puan); and Martín Rejtman and the performers Esteban Bigliardi – who also appears in Los delincuentes / The Delinquents – and Camila Hirane (La práctica / The Practice). In Horizontes Latinos, Dolores Fonzi, in her directorial debut, accompanied by the actor Toto Rovito and Santiago Mitre in his capacity of producer (Blondi); Tatiana Huezo (El eco / The Echo); Paula Hernández with Alfredo Castro and Sergi López (El viento que arrasa / A Ravaging Wind); Lucía Puenzo and Mariana di Girolamo (Los impactados); Rodrigo Moreno (Los delincuentes); Felipe Gálvez (Los colonos / The Settlers); and Lila Avilés (Tótem / Totem), among other filmmakers. Presenting their films in Zabaltegi-Tabakalera are Eduardo Williams (El auge del humano 3 / The Human Surge 3) and Andrés di Tella (Mixtape La Pampa); in Culinary Zinema, directors Mariano Cohn and Gastón Duprat and actors Luis Brandoni, Enrique Piñeyro and Majo Cabrera (Nada); and the moviemaker Valeria Sarmiento will attend the premiere of El realismo socialista (Klasikoak).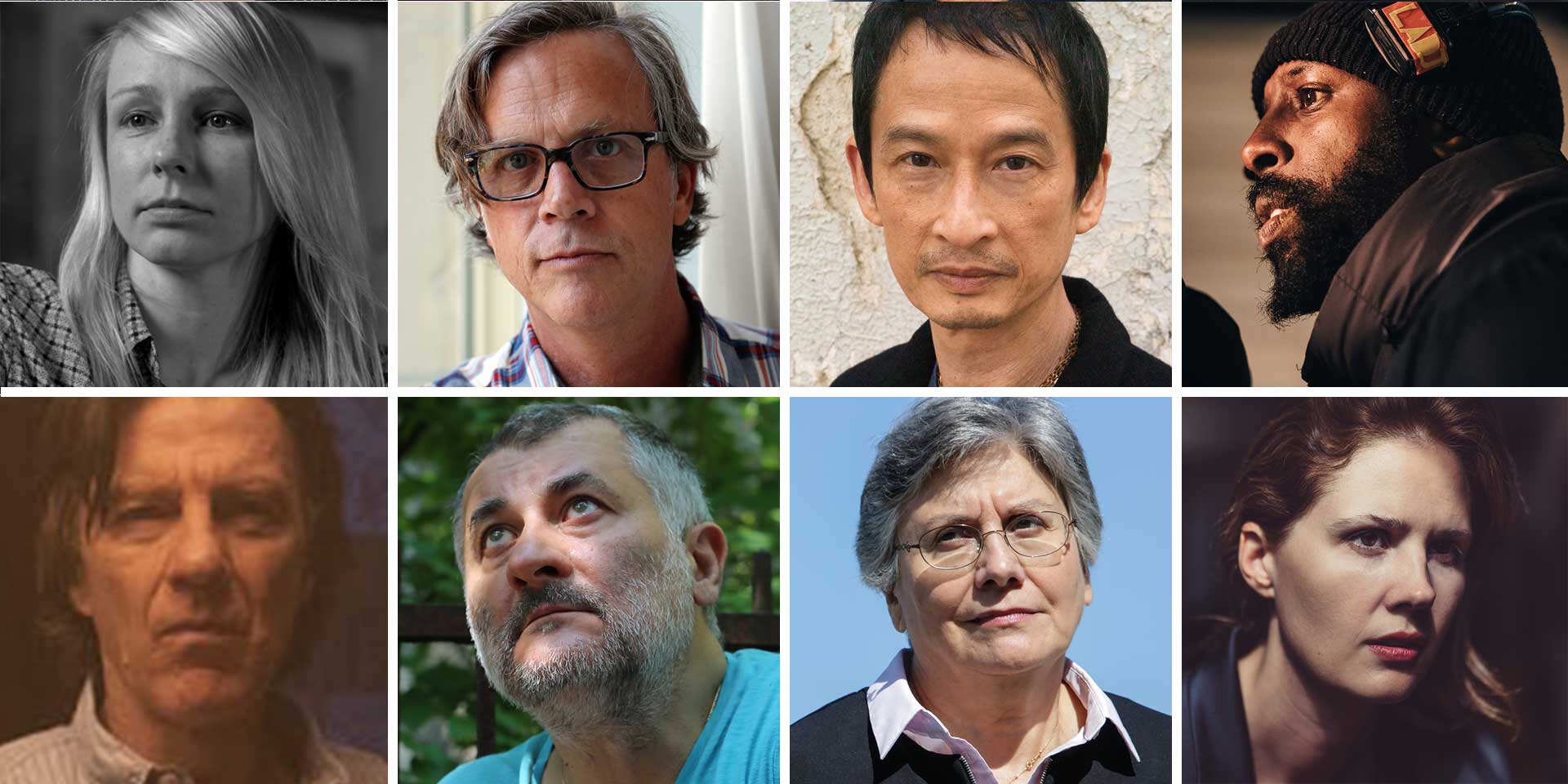 Headed by the Donostia Award-winner Víctor Erice and the cast of Cerrar los ojos / Close Your Eyes, José Coronado, Manolo Solo, Ana Torrent, María León, Petra Martínez, Mario Pardo, Venecia Franco and Helena Miquel, Spanish cinema will be present in San Sebastian in the Official Selection with Isabel Coixet and the actors from Un amor (Laia Costa, Hovik Keuchkerian, Hugo Silva, Luis Bermejo, Francesco Carril and Ingrid García Jonsson), Jaione Camborda and actors Janet Novás Diego Anido (O Corno / The Rye Horn), Isabel Herguera (El sueño de la sultana / Sultana's Dream), Fernando Trueba and Javier Mariscal (Dispararon al pianista / They Shot the Piano Player) and the team of La Mesías: directors Javier Ambrossi and Javier Calvo and the actresses Carmen Machi, Macarena García, Cecilia Roth, Lola Dueñas Ana Rujas, among many other actors.
Coming to compete in New Directors are the creators of La estrella azul / The Blue Star, with the director Javier Macipe and the actors Pepe Lorente, Marc Rodríguez, Catalina Sopelana and Bruna Cusí. In Perlak, competing for the Audience Award, J.A. Bayona will show La sociedad de la nieve / Society of Snow with the Uruguayan actor Enzo Vogrincic. At the RTVE Galas, director Arantxa Echevarría will be accompanied by Leonor Watling, Carolina Yuste, Pablo Molinero, Xinyi Ye, Shiman Yang, Yehu Ji and Valeria Fernández (Chinas), while Emma Suárez, Carlos Cuevas, Alexandra Jiménez, Fernando Guallar, Gonzalo Castro and Anna Moliner will attend alongside the director, Vicente Villanueva, and the author of the play, Alfredo Sanzol (La ternura). Actress Mónica Randall will introduce the screening of the restored copy of Furia española / Spanish Fury in Klasikoak. The team of 20.000 especies de abejas / 20,000 Species of Bees will attend Zinemira with director Estibaliz Urresola and the actresses Patricia López Arnaiz, Itziar Lazkano, Ane Gabarain and Sofía Otero; Las buenas compañías / In the Company of Women will be presented by the actresses Alicia Falcó and Itziar Ituño, who will be back with Irati's crew.

In Made in Spain, Elena Trapé will show Els Encantats; Elena Martín Gimeno, Creatura; Juan Francisco Viruega, Aura Garrido and Isabel Ampudia, Amanece; Miguel Ángel Vivas and Natalia de Molina, Asedio; Gerardo Herrero, Juan Carlos Vellido, Eva Ugarte, Fele Martínez, Antonio Pagudo and, once again, Alexandra Jiménez, Bajo terapia / Under Therapy; with El fantástico caso del golem / The Fantastic Golem Affairs, its directors Burnin' Percebes, Brais Efe and Bruna Cusí, who, as well as in La estrella azul, will also participate in the presentation of Upon Entry together with the other cast members Alberto Ammann and Laura Gómez and the director, Alejandro Rojas.
At the Velodrome, Berto Romero, Andreu Buenafuente, María Botto and Nacho Vigalondo and, once again, Eva Ugarte, will accompany directors Javier Ruiz Caldera and Alberto del Toro in the premiere of the series El otro lado / The Other Side, while C. Tangana will travel to San Sebastian with directors Santos Bacana, Cristina Trenas and Rogelio González to present the documentary project Esta ambición desmedida / This Excessive Ambition. He won't be the only musical representative; also travelling to San Sebastian are the French singer Jeanne Cherhal, who stars in Un silence, and Amaia Romero, who features in the cast of La Mesías, both in the Official Selection.
Similarly travelling to San Sebastian are actors, filmmakers and professionals from other disciplines who tell their story first hand. In Made in Spain, the actress Carmen Elías, who revealed her Alzheimer's Disease diagnosis a year ago, will show Mientras seas tú / While You're Still You, with the director Claudia Pinto; Fernando Méndez Leite will attend as star of the non-fiction La memoria del cine: una película sobre Fernando Méndez-Leite The Memory of Cinema: A Film about Fernando Méndez-Leite,directed by Moisés Salama; the former footballer and trainer with ELA, Juan Carlos Unzué will do the same with the directors of Unzué, l'ultim equip del Juancar, Jesús Muñoz, Santi Padró and Xavi Torres. The philosopher Paul B. Preciado will show Orlando. Ma biographie politique / Orlando, My Political Biography, a sort of omnibus autobiography through the work of Virginia Woolf in Zabaltegi-Tabakalera and the survivor of the Andes plane crash, Gustavo Zerbino will accompany J.A. Bayona for the screening of La sociedad de la nieve / Society of the Snow (Perlak).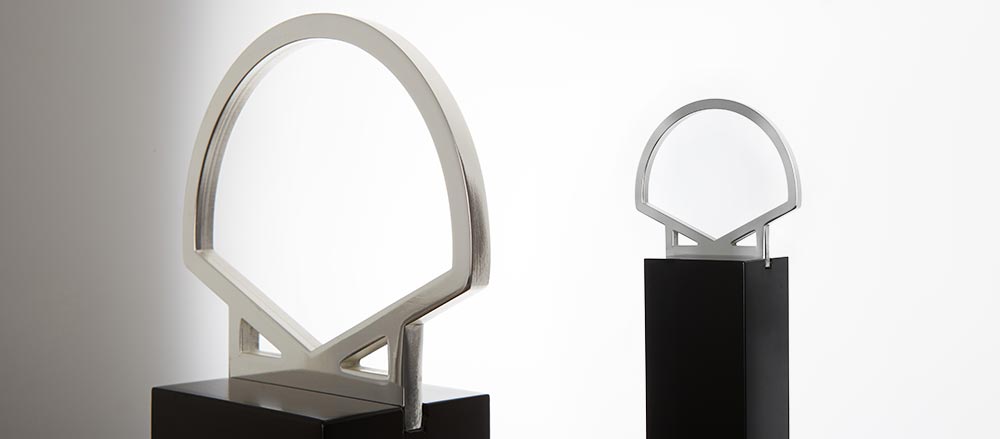 Programme and sale of tickets for the 71st edition
The programme will be published on the Festival website and in the local media on Monday 11. Film-by-Film guides will go on sale on the 13th at the Festival office (on the second floor of Tabakalera, from 10:00-14:00 and 15:30-19:00 at a price of 2.20 euros). From Saturday 16 it will be available from the Kursaal information desk (open on 16th-21st from 09:00-20:00 and on 22nd-30th from 08:30-22:00).
General ticket sales will start on Sunday 17 at 09:00. That day tickets can be purchased for the first three days of the Festival (Friday 22, Saturday 23 and Sunday 24); on Monday 18 tickets can be purchased for Monday 25, Tuesday 26 and Wednesday 27, as well as those still available for the previous days; and, finally, on Tuesday 19, they will go on sale for Thursday 28, Friday 29 and Saturday 30, as well as for the other days.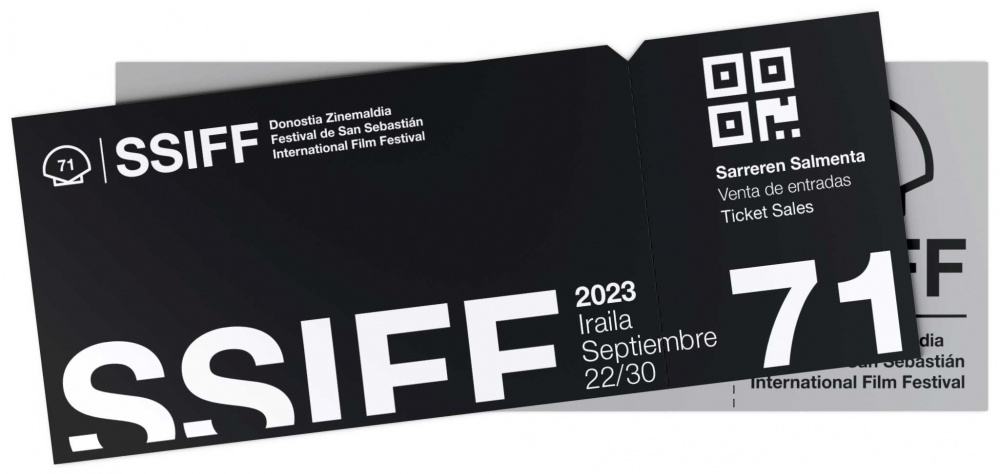 Ticket Sales

Official Jury
The Official Selection jury will be chaired by the French director Claire Denis, winner of the Grand Prix at the Festival de Cannes, the Silver Bear in Berlin, the Golden Leopard in Locarno and the FIPRESCI Prize in San Sebastian. The director of Beau travail and Trouble Every Day will be accompanied in her deliberations by the Chinese actress Fan Bingbing (winner of the Silver Shell for her role in I Am Not Madame Bovary, Golden Shell in 2016); the Colombian producer, director and writer Cristina Gallego (co-director of Pájaros de Verano / Birds of Passage, producer of the first Academy Award-nominated film, El abrazo de la serpiente / Embrace of the Serpent, and of the last Golden Shell winner, Los reyes del mundo / The Kings of the World), the French photographer Brigitte Lacombe, who, among many other works, photographed the shooting of movies including All the President's Men, Kramer vs. Kramer, Gangs of New York, The Wolf of Wall Street and The Irishman, and is also the author of the official poster for last year's Festival featuring Juliette Binoche; the Hungarian Robert Lantos, producer of David Cronenberg and Atom Egoyan and of films including Being Julia and Barney's Version; the Spanish actress Vicky Luengo, protagonist of Suro and Antidisturbios Riot Police; and the German filmmaker Christian Petzold, Silver Bear for Barbara, FIPRESCI Prize in San Sebastian for Phoenix and Grand Jury Prize at the Berlinale for Roter Himmel / Afire.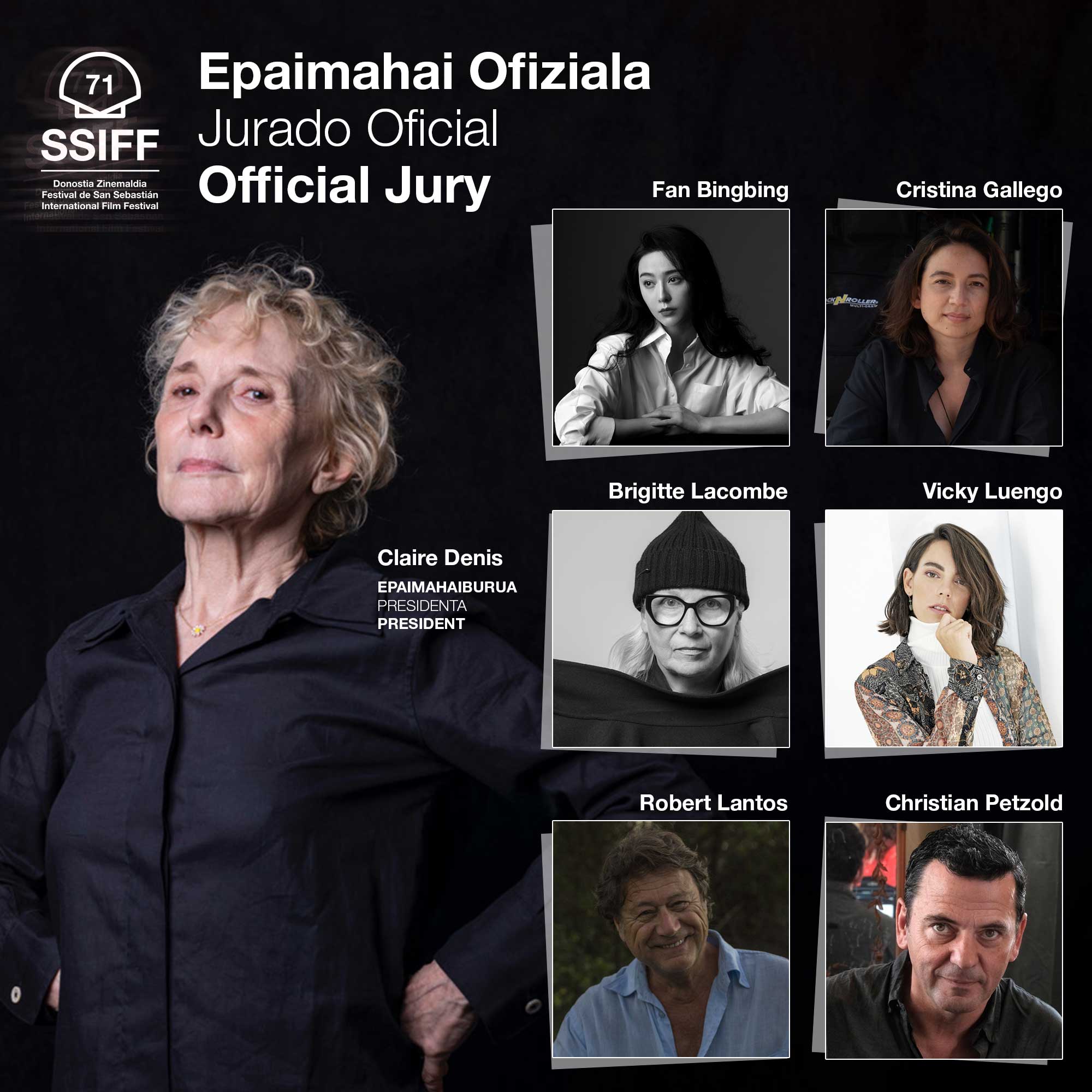 Official Jury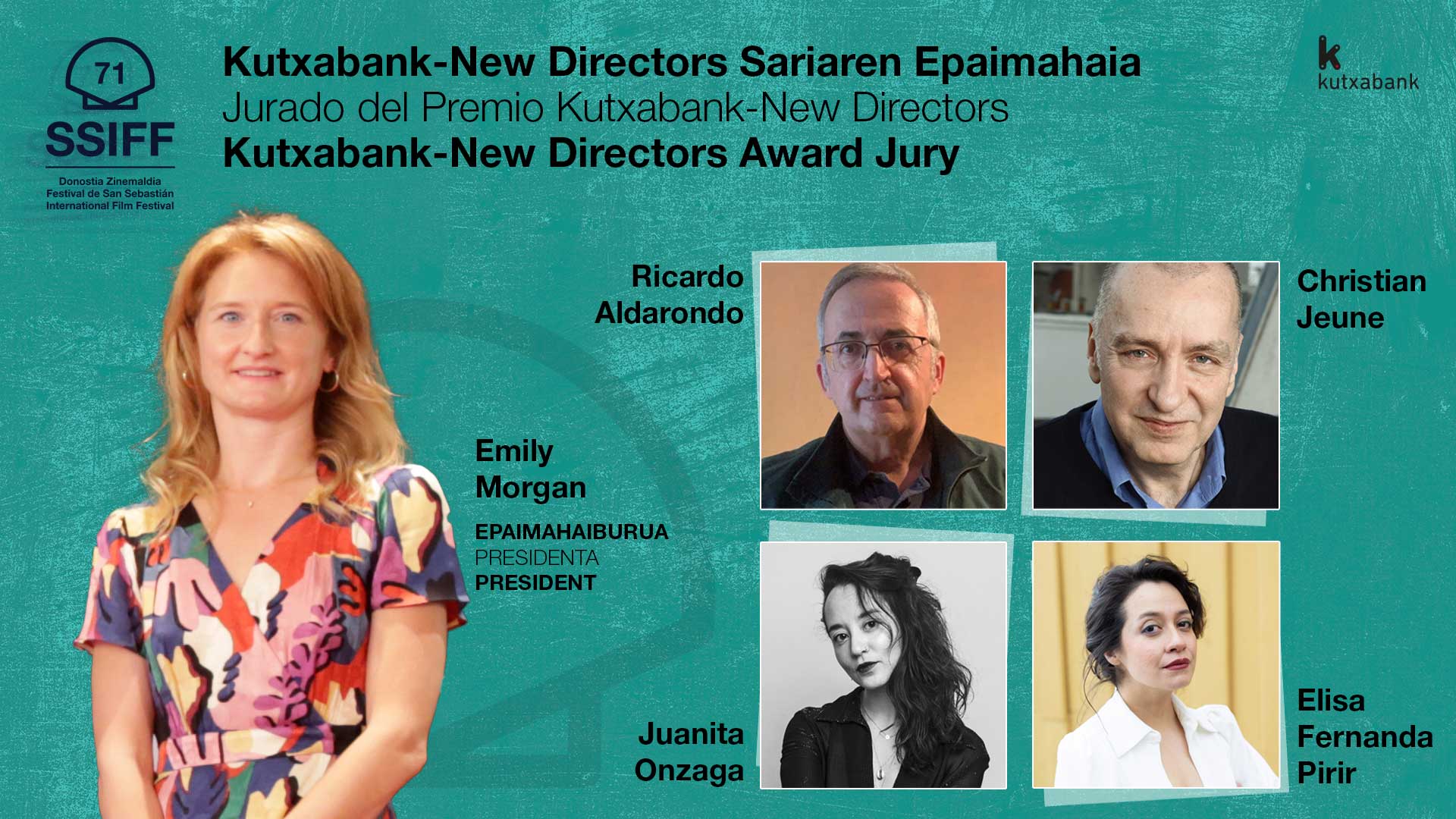 Kutxabank-New Directors Award Jury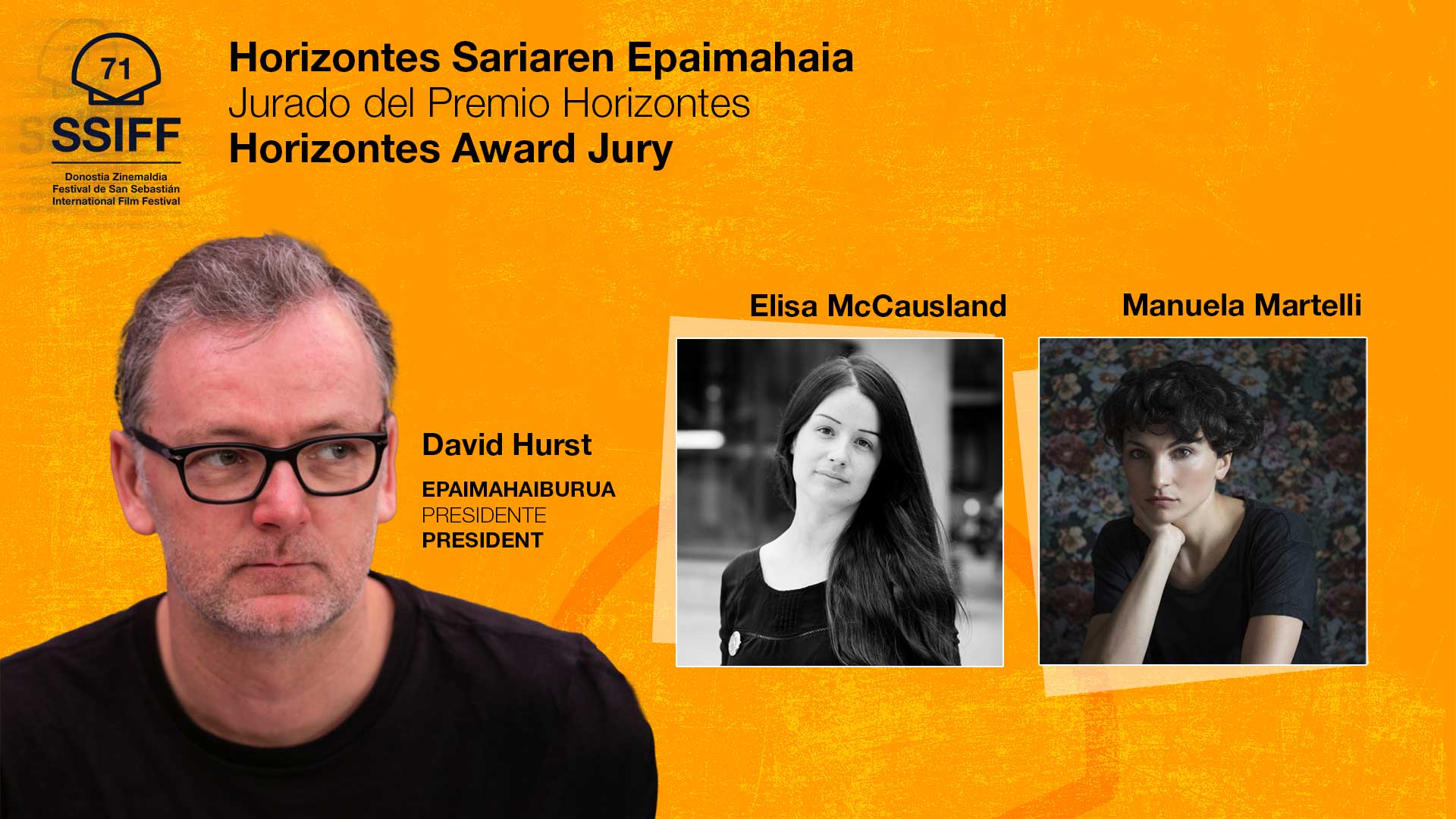 Horizontes Award Jury

Zabaltegi-Tabakalera Award Jury

Nest The Mediapro Studio Award Jury

Irizar Basque Film Award Jury

Culinary Zinema Best Film Award Jury
Rafael Tonón
Irma Aguilar
Jose Mari Goenaga

Europe-Latin America Co-Production Forum Award Jury
---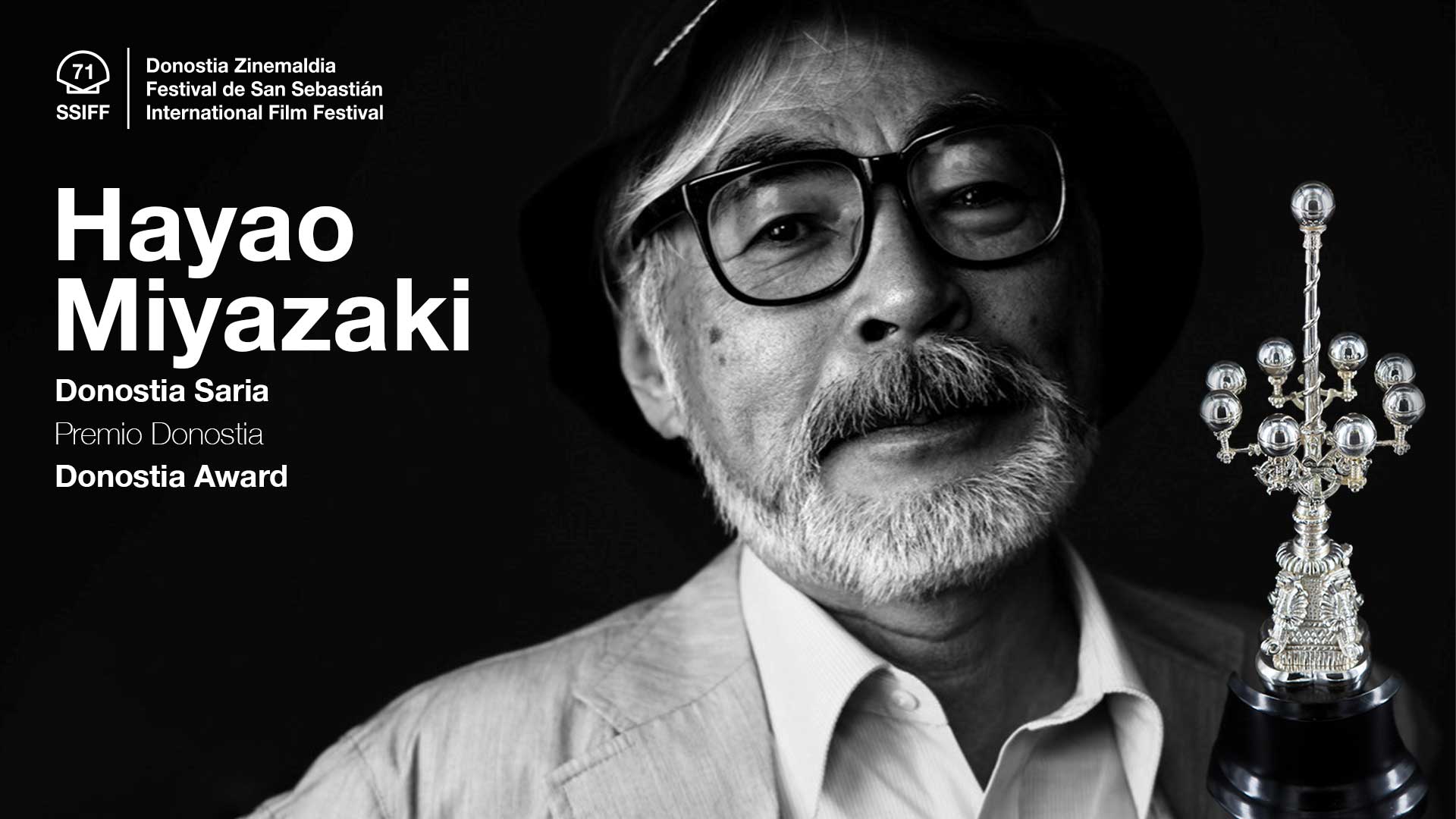 After graduating from Gakushuin University in 1963 with a Degree in Political Science and Economics, Hayao Miyazaki (Tokyo, 1941) joined Toei Animation Company as an animator. He worked under the director Isao Takahata on scene planning and key animation for the production of Taiyo no oji: Horusu no daiboken (The Little Norse Prince Valiant, 1968). He moved to the A Production animation studio with Takahata in 1971, where he worked on the original concept, screenplay, layout design and key animation for Panda Kopanda (Panda! Go Panda!, 1972). Miyazaki has worked at various studios including Zuiyo Eizo with Takahata, Nippon Animation, and Telecom, providing the scene planning and layout designs for the TV series Arupusu no shojo Haiji (Heidi, A Girl of The Alps, 1974) and Haha wo tazunete sanzenri (From the Apennines to the Andes, 1976). He directed his first TV series Mirai shonen Konan (Conan, The Boy in Future) in 1978.
He debuted as a director of theatrical features with Rupan sansei: Kariosutoro no shiro (The Castle of Cagliostro, 1979). In 1984, Miyazaki wrote and directed his feature Kaze no tani no Naushika (Nausicaä of The Valley of The Wind), based on his original graphic novel serialized in the monthly animation magazine, Animage.
Miyazaki co-founded Studio Ghibli in 1985 with Takahata, and has since directed ten feature films, including Tenku no shiro Rapyuta (Castle in the Sky, 1986), Tonari no Totoro (My Neighbor Totoro, 1988), Majo no takkyubin (Kiki's Delivery Service, 1989), Kurenai no buta (Porco Rosso, 1992), and Mononoke hime (Princess Mononoke, 1997). Sen to Chihiro no kamikakushi (Spirited Away, Velodrome, 2001), broke Japan's all-time box office records, and harvested numerous awards, including the Golden Bear at the 2002 Berlin International Film Festival and the 2002 Academy Award for Best Animated Feature Film. Hauru no ugoku shiro (Howl's Moving Castle, 2004) received a Golden Osella at the Venice International Film Festival, which awarded him a Golden Lion for Lifetime Achievement in 2005. In 2008 he wrote and directed Gake no ue no Ponyo (Ponyo, 2009), which competed in Venice. He later contributed to the planning and wrote the screenplays for Hiromasa Yonebayashi's Kari-Gurashi no Arrietty (The Secret World of Arrietty, 2010) and Goro Miyazaki's Kokuriko-zaka kara (From up on Poppy Hill, 2011). Kaze tachinu (The Wind Rises, Perlak, 2013) competed at the Venice Film Festival and was nominated for the Academy Award for Best Animated Feature.
In November 2014, the Board of Governors for the Academy of Motion Picture Arts and Sciences presented him with an Honorary Oscar for Lifetime Achievement. His latest film, Kimitachi wa do ikiru ka (The Boy and the Heron), released in Japan on 14 July 2023, screened at Toronto Festival and will open the Official Selection at San Sebastian Festival out of competition, in what will be its European premiere.
Miyazaki has published a number of books of essays, drawings and poems, including Shuppatsuten 1979-1996 (Starting Point: 1979-1996, 1996). He has designed several buildings, including the Ghibli Museum, in Mitaka, which opened in 2001, for which he serves as Honorary Executive Director. In 2012, Miyazaki was named a "Person of Cultural Merit" by The Government of Japan. In July 2014, he was inducted into the Will Eisner Comic Awards Hall of Fame.