Monica Bellucci, Ricardo Darín and Agnès Varda to receive Donostia Awards at the 65th edition
Javier Bardem, Bérénice Bejo, Steve Coogan, Glenn Close, Penélope Cruz, James Franco, Jean-Pierre Léaud, Benoît Magimel, Arnold Schwarzenegger, winner of the Jaeger-LeCoultre Prize to Latin Cinema, Paz Vega, and Alicia Vikander have also confirmed their presence in San Sebastian
The actor John Malkovich will preside over the Official Selection Jury, on which he will be accompanied by the actors Dolores Fonzi and Emma Suárez, the filmmaker William Oldroyd, the producer and screenwriter Paula Vaccaro and the cinematographer Fabio Cianchetti
Friday, September 8th, 2017
Darren Aronofsky, Raymond Depardon, Ildikó Enyedi, Robert Guédiguian, Todd Haynes, Aki Kaurismäki, Hirokazu Koreeda, Ruben Östlund, Lynne Ramsay, Carlos Saura, Wim Wenders, Michael Winterbottom and Frederick Wiseman to present their films in San Sebastian.
Three Donostia Awards will be given at the 65th edition of the San Sebastian Festival. As well as acclaimed Argentine actor Ricardo Darín, the Festival will acknowledge the careers of the Italian actress Monica Bellucci and the French filmmaker, Agnès Varda. Over her more than 25 years as an actress, Bellucci has worked with several benchmark moviemakers in both Europe and the USA, including Francis Ford Coppola, Gaspar Noé, the Wachowski sisters, Mel Gibson, Terry Gilliam, Spike Lee, Paolo Virzì, Philippe Garrel, Sam Mendes and Emir Kusturika. For her part, Agnès Varda is a legend of European cinema, whose career has earned her recognition with the top awards at Cannes, Berlin, Venice, Locarno, and from the French Film Academy.
As well as the three Donostia Awards, a long list of actors and directors have confirmed their presence in San Sebastian. To present their films in the Official Selection, the Festival will receive the visit of actor James Franco, who will compete for the Golden Shell with his film The Disaster Artist; Glenn Close, who will close the section with The Wife; Jean Pierre Léaud – the unforgettable Antoine Doinel of Les quatre cents coups / The 400 Blows – who stars in Nobuhiro Suwa's film (Le lion est mort ce soir / The Lion Sleeps Tonight); Arnold Schwarzenegger, voice of the special screening Wonders of the Sea 3D; and Alicia Vikander, who stars in the opening film, directed by Wim Wenders (Submergence).
Furthermore, some of the most important directors on today's scene will come to San Sebastian to present their films in the Pearls, Zabaltegi-Tabakalera and Horizontes Latinos sections: Darren Aronofsky, Kantemir Balagov, Robin Campillo, Raymond Depardon, Ildikó Enyedi, Michel Franco, Robert Guédiguian, Todd Haynes, Hirokazu Koreeda, Sebastián Lelio, Martin McDonagh, Janus Metz, Ruben Östlund, Lynne Ramsay, Carlos Saura (in his case for a film about him by Félix Viscarret) and Frederick Wiseman, among others.

Javier Bardem and Penélope Cruz, who will attend the closing gala of the Pearls section in the Velodrome (Loving Pablo) and the winner of the Jaeger-LeCoultre Prize to Latin Cinema, Paz Vega, will head the Spanish cinema representation, made up of the cast of El autor / The Motive, featuring Javier Gutiérrez (who will also present Verguënza), María León and Antonio de la Torre; the delegation of La peste / The Plague, headed by Alberto Rodríguez and Paco León; and the star of the co-production Una especie de familia / A Sort of Family, Bárbara Lennie; the couple in Morir / Dying, Marian Álvarez and Andrés Gertrúdix; Elena Anaya, who participates in the special screening accompanying the Donostia Award, La cordillera /The Summit; and the teams of the two premieres in the Velodrome, Jordi Mollà, Karra Elejalde and Unax Ugalde (Operación Concha / Operation Golden Shell) and Javier Cámara, Miren Ibarguren, Gorka Otxoa and Julián López (Fe de etarras / Bomb Scared), among many others.
French cinema too will be strongly represented. In the Official Selection, La douleur / Memoir of Pain will see the visit of director Emmanuel Finkiel and the actors Benoît Magimel (La Haine / The Hate), and Grégoire Leprince-Ringuet (La belle personne / The Beautiful Person); presenting Le lion est mort ce soir / The Lion Sleeps Tonight, Jean Pierre Léaud will be accompanied by his opposite in the film, Pauline Etienne (Eden). In the Pearls section, Léa Drucker (La chambre bleue / The Blue Room) and Denis Ménochet (Inglourious Basterds) embody the parents in Jusqu'à la garde / The Custody, and Jean-Pierre Darrousin, plays one of the three siblings in Guédiguian's La villa / The House by the Sea. And the actress Bérénice Bejo will present in Savage the film Tout là-haut / To the Top, accompanied by the director, Serge Hazanavicius, and the producers Julie Gayet and Nadia Turincev.
New movie talents will similarly be present at the Festival, not only through the first films present in all of the sections and particularly New Directors, but also through the visit of actors starting out in their careers, such as the leading characters of Marrowbone, Charlie Heaton (Stranger Things, As You Are) and George MacKay (Captain Fantastic); and of Sollers Point, McCaul Lombardi (American Honey); Esther Garrel, who participates twice in the Festival, in L'amant d'un jour / Lover for a Day and Call Me By Your Name; Nahuel Pérez Biscayart (Je suis à toi), in 120 battements par minute / 120 Beats Per Minute; and the young star of Jusqu'à la garde / Custody, Thomas Gioria.
---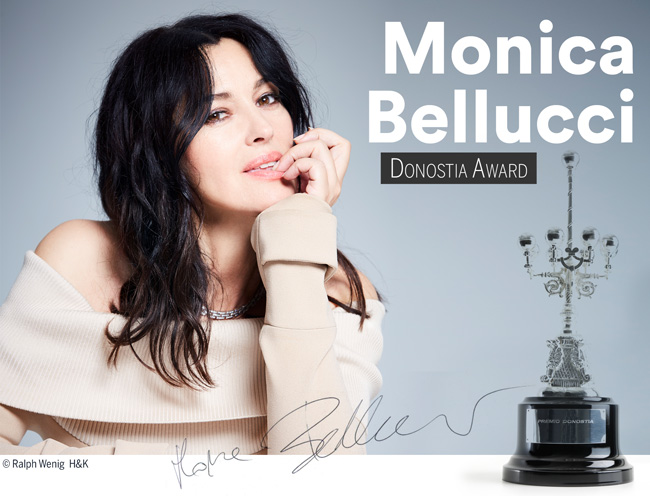 MONICA BELLUCCI
The great talent of Italian actress Monica Bellucci is recognized and appreciated around the globe.

After law school and a career as a model for major fashion designers, she took acting classes and landed her first part in 1990 in Dino Risi's Vita coi Fligi. In 1991, she had her first major film role in La Riffa by Francesco Laudadio. A year later, having been noticed by Francis Ford Coppola, she made one of her early appearances in his film Dracula, playing one of the vampire's wives.

After working in several Italian films, Monica Bellucci moved to France and became known in 1996 for her role of Lisa in L'appartement (The Apartment) directed by Gilles Mimouni, which landed her a Best Young Actress nomination for the 1997 Césars. In the late 90s and early 2000s she starred in several major French productions, with particularly memorable performances including Nathalie in Dobermann (1997), by Jan Kounen, Cleopatra in Asterix & Obelix: Mission Cleopatra (2002), and Alex in Gaspar Noé's controversial Irreversible (2002), where she co-starred with Vincent Cassel and Albert Dupontel.

Parallel to her career in France, Monica Bellucci, who speaks Italian, French and English, continued to perform internationally. In the USA, she worked, among others, for Stephen Hopkins in Under Suspicion (2000), for Antoine Fuqua in Tears of the Sun (2003) and for the Wachowskis in the popular Matrix saga (Matrix Reloaded and Matric Revolutions, 2003). In 2004, she was directed by Mel Gibson for her role of Mary Magdalene in The Passion of the Christ.

Over the following years, she participated in more than 20 productions all over the world and collaborated with leading filmmakers such as Bertrand Blier, Gabriele Muccino, Terry Gilliam, Spike Lee, Paolo Virzì, Rebecca Miller, Alain Corneau, Marina de Van, Philippe Garrel and many others. In 2014, she played the character of Milly Catena in Le Meraviglie (The Wonders) by Alice Rohrwacher, a highly acclaimed entry at the 2014 Cannes Film Festival, where it won the Grand Prix.

In 2015, she was Bond Lady alongside English actor Daniel Craig in the new James Bond film Spectre, directed by Sam Mendes. Last year, she made an appearance in the US TV series Mozart in the Jungle with Gael Garcia Bernal as her partner. She was Emir Kusturica's beautiful bride in his movie On the Milky Road and in 2017 she can be seen making a special appearance in David Lynch's Twin Peaks series.
---
MALèNA / MALENA
Giuseppe Tornatore
(Italy - USA)
Malena is the most charming and irresistible beauty of Castelcuto, a sleepy village on the sunny Sicilian coast. She's new in town and, while her husband is away fighting in the war, every stroll she takes becomes a spectacle accompanied by the lecherous glances of the men and the resentful gossiping of their envious wives. An army of skinny teenagers on bikes follows her wherever she goes, with the sole intention of looking on at her exquisite and perfect beauty. But among them is Renato, a 13 year-old boy with a huge imagination whose desires take him to the limits of obsessive fantasy.

---
UNDER SUSPICION
Stephen Hopkins
(USA - France)
In San Juan (Puerto Rico), attorney Henry Hearst, one of the most important personalities on the island, is called in to speak with the chief of police and complete his statement regarding the kidnap and death of a young girl killed in the same circumstances as another two in a single month. But, what seemed to be a routine visit turns into a harsh interrogation of unpredictable consequences.

---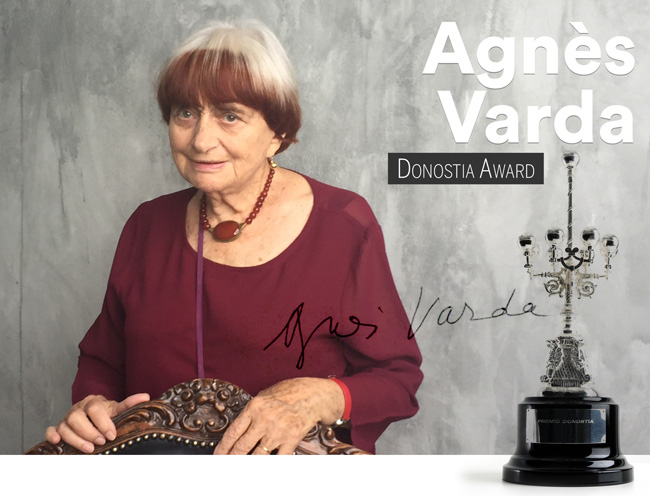 ÀGNES VARDA
Born in Ixelles, Brussels, in 1928, Agnès Varda spent her childhood in Belgium with her four brothers and sisters. In 1940 the war saw the family move to the South of France. She spent her adolescence in Sète and later in Paris where she took her baccalaureate, going on to study at the Louvre and photography at Vaugirard night school. She has lived in Rue Daguerre, in the 14th arrondissement of Paris, since 1951.

Varda became the photographer for Jean Vilar, founder of the Avignon festival, in 1948, and later for the People's National Theatre (TNP) (where filmstar Gerard Philipe shone, among others).
In 1954 she held her first solo exhibition in her courtyard, followed by several reporting missions to China and Cuba. Over the course of her travels and via the people she has met, she has produced several portraits of both ordinary and famous people.

Without any training, Agnès Varda moved into cinema. She created her own small company Ciné-Tamaris to produce her first feature-length film, La Pointe Courte (1955), which she herself wrote and directed, and which later earned her the title of 'Grandmother of the French New Wave'.

Married to film director Jacques Demy (deceased in 1990), their daughter Rosalie Varda-Demy is a costume designer and their son Mathieu Demy, an actor and director. They spent several years in Los Angeles, where Agnès filmed Lions Love (…and Lies) (1960), Uncle Yanco (1967) and Black Panthers (1969), followed later by Mur Murs (1981) and Documenteur: An Emotion Picture (1980).

Her best-known films include: Cléo de 5 à 7 (Cleo from 5 to 7,1962), Le Bonheur (Happiness, 1965 - Silver Bear at Berlin Film Festival), Sans Toit Ni Loi (Vagabond, 1985 - Golden Lion at the Venice Film Festival), Jacquot (Jacquot de Nantes, 1991), and Les Glaneurs et la Glaneuse (The Gleaners and I, 2000 – Gold Hugo at Chicago).

In 2008, Les plages d'Agnès (The Beaches of Agnes), a poetic and playful self-portrait, resonated with the public and won the French César Award for Best Documentary. In 2010-11, she wrote and directed the documentary series Agnès de ci de là Varda (Agnès Varda: From Here to There, consisting of five 45-minute episodes), chronicling an open journey and meetings with contemporary artists in several countries.

Her most recent work, Visages, Villages (Faces, Places), co-directed with the artist JR, was presented out of competition at the Official Selection of the Cannes Festival in 2017 and will have its Spanish premiere at this edition of the San Sebastian Festival.

In 2003, Agnès Varda launched her third career as a visual artist. Her installations have exhibited at the Venice Art Biennale and the Lyon Biennale of Contemporary Art, the SMAK in Gent, Art 41 Basel, the Fondation Cartier pour l'Art Contemporain, the Martine Aboucaya Gallery in Paris, the Paul Valéry Museum in Sète... Her Broken Portraits series ran at the Nathalie Obadia Gallery in Brussels. In March 2012, the CAFA Art Museum in Beijing and the Hubei Museum of Art in Wuhan exhibited several of her contemporary installations and photographs taken in China in 1957. In June 2012 she participated in the collective exhibition "Le voyage à Nantes" with two new video installations, "Des chambres en ville" and "Paroles de squatters". In July 2012, the La Rochelle Film Festival hosted a retrospective of her films and her "Patatutopia" installation. In November 2012, the Centro Andaluz de Arte Contemporaneo in Seville showcased a number of installations and films with the title of "Las dos orillas de Agnès Varda", and in February 2014, "Triptyques atypiques" ran at the Galerie Nathalie Obadia (Paris). Other exhibitions of her work in recent years are: "Photographs Get Moving (potatoes and shells, too)"(Logan Center for the Arts, University of Chicago, 2015); "Varda / Cuba" (Centre Georges Pompidou, Paris, 2015); "Agnès Varda. Patates & compagnie" (Ixelles Museum, Brussels, 2016); "Une barrière ouverte" (Galerie Lumière, Lyon, 2016); and a "solo show" (Blum & Poe Gallery, New York, 2017).

Among her most important life achievement awards are the Léoparde d'Onore at the Locarno festival (2014) and the Palme d'Or d'Honneur at the Cannes film Festival (2015).

In November, the Hollywood Academy of Motion Picture Arts and Sciences will give her an Honorary Lifetime Achievement Award.
---
VISAGES, VILLAGES / FACES, PLACES
The veteran filmmaker Agnès Varda and the young photographer and urban graphic artist JR make their way through the streets and landscapes of rural France in a van. The aim is very simple: to meet people with whom they can exchange ideas, to take their pictures and later display the images blown up to enormous size right there in the street, to see what reactions they provoke.

---

The Official Selection Jury will be presided over by the North American actor, director, producer and writer John Malkovich. He will be accompanied in the deliberations to decide the Golden Shell by the Argentine actor Dolores Fonzi, the British director William Oldroyd, who presented Lady Macbeth at the Festival last year, the Spanish actress Emma Suárez, the Italian producer and screenwriter Paula Vaccaro, and two jury members still to be confirmed.
---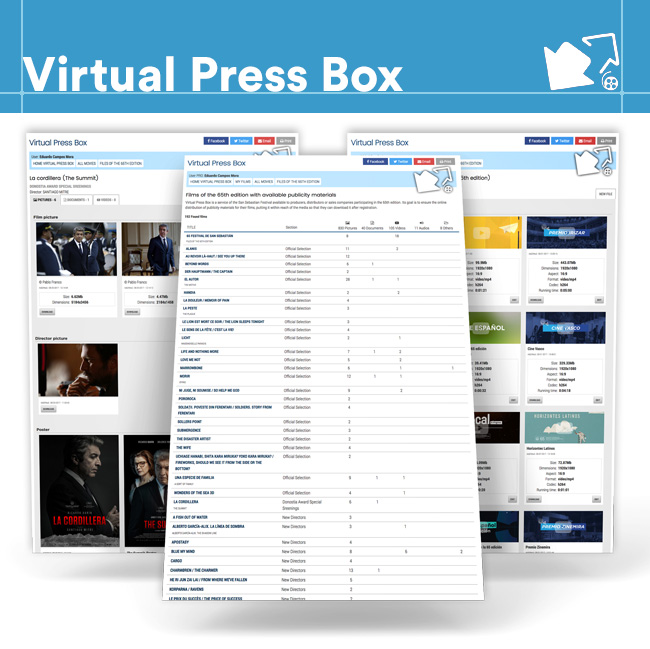 The Festival's site Virtual Press Box is activated and the publicity materials of the films of the 65th edition are already available for the registered users. Pictures, trailers and or excerpts, audio clips, press kits and other publicity materials that have been made available by the films representatives can be found at the Virtual Press Box.